Dollar rise to trigger reverse carry trade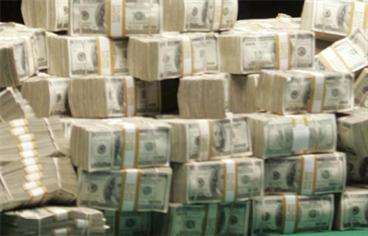 Analysts and currency traders see the possibility of a reverse carry trade in dollars this year.

In the past fortnight the dollar index – the index that measures the value of the dollar versus a basket of currencies – has risen four per cent. Further, there is every possibility of the greenback strengthening this year considering the economic results and employment data posted at various stages this year will be more lustrous than the forgettable 2009.

"The possibility of a reverse carry trade is beginning to show. It may be triggered by an acceleration in the dollar," said Mike Baghdady the Head of Currency trade with the London-based Spy Glass Trading Solutions.

A carry trade in dollars involves borrowing US dollars at lower interest rates and then investing in securities, derivatives and other products that provide higher interests in foreign countries in their currencies.

A strong investment by foreign institutional investors (FIIs) in the security markets of emerging economies is supposed to come from carry trade.

A flight of capital into dollars as the greenback strengthens and therefore the interest rates of US Treasury securities become higher is termed reverse carry trade.

A reverse carry trade in dollars is expected to adversely impact the financial markets in emerging economies because that's where most of the FIIs parked their money during the global meltdown of 2008-2009. It is also expected to impact asset classes such as gold where investors are known to have parked money the last year thus inflating the bullion's price to record levels.

Baghday said reports of economic growth in the US for two consecutive quarters can strengthen confidence in the US economy triggering a flight of capital to the dollar denominated assets.

He warned that a crash in Chinese economy or iterative news of a slowdown of demand in US and Europe could also contribute to the dollar's strengthening.

"The Chinese economy is overheating. It should not suck away growth from US and European markets," Baghdady said.

"If demand for Chinese goods in the US and Europe continues to decline then the Chinese growth will suffer. And investors may want to pull out money from China and direct it to dollar denominated assets," he added.

Investors will not hesitate from taking risks this year, if such a situation arises.

"The emerging markets have taken 'a rest' after an unpleasant last week, but they will not be afraid to put on some risky trades if the situation arises. After all, much of the previous 'risk on' moves had been significantly supported by a succession of favourable macro news flow, given a recovery that was well anchored," said Bill Hubard, Chief Economist at Swiss Forex Bank MIG.

A Dubai-based analyst said that the reversal of US dollar will hit asset classes such as precious metals.

"A rise in dollar is inevitable. And logically it will have an adverse impact on gold." said Deborah Fuhr, Global Head of ETF research at Blackrock. He added that a stronger dollar has the potential of adversely impacting precious metal ETFs.
Keep up with the latest business news from the region with the Emirates Business 24|7 daily newsletter. To subscribe to the newsletter, please click here.
Follow Emirates 24|7 on Google News.