Dollar steady before job data, rate decisions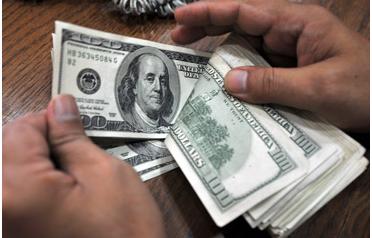 But the US currency trimmed some of the previous day's losses against currencies such as sterling and the New Zealand dollar.  Overall, investors were reluctant to tilt positions too far ahead of key events later in the week, market players said.
"I don't think this is a stage to take on too much risk," said a trader for a Japanese trust bank.
Exchange rates may now hover as investors await the US labour market figures and interest rate decisions from the European Central Bank (ECB) and the Bank of England (BoE) this week, dealers said.
The dollar index, which tracks the value of the greenback against a basket of currencies, was little changed at 84.967 after falling more than 1 per cent on Tuesday as hopes for fresh stimulative economic packages in the United States sapped demand for the dollar as a safe haven.
Sterling fell 0.3 per cent to $1.4423 (Dh5.31) and the New Zealand dollar dipped 0.3 per cent to $0.5125.
Against the yen, the dollar rose 0.2 per cent to 89.62 yen.
There was talk that dollar/yen options with a strike price of 90.00 yen were due to expire over the next couple of days, said the Japanese trust bank trader, adding that such positions could keep the pair stuck in a tight range for a while.
Such options positions can lead to dollar buying flows from options players at levels below the strike price and dollar selling at levels above. Options-related flows tend to increase as expiry dates draw near.
Tuesday's data showed pending sales of existing US homes rebounded in December as buyers waded back into the market to take advantage of lower prices and mortgage interest rates.
The dollar index had fallen on Tuesday after the unexpected home sales jump. Risk sentiment further improved and sapped demand for the dollar on Tuesday as US stocks rose, buoyed by news that a group of Republican senators had offered a $445 billion alternative plan for boosting the ailing economy.
But analysts said currency market players were cautious about whether US stocks would be able to sustain their gains as the fate of the stimulus plans remains unclear.
Investors were looking to the US ADP employment report for January, due later on Wednesday, as a pointer ahead of Friday's key jobs data.
The euro dipped 0.1 per cent to $1.3026 ahead of the ECB's rate decision on Thursday, when it is widely expected to take a break in its rate cutting cycle though it may take action again in March.
"There are worries that the euro zone economic deterioration will further deepen as its interest rate cutting has been slow compared with other major countries," said said Jun Kato, deputy general manager at Shinkin Central Bank.
"The ECB will have to resume rate cutting (after keeping rates steady in February), considering the status of the economy in the area," he said.
The BoE's interest rate verdict is also scheduled for Thursday, and the central bank is expected to cut interest rates by a half percentage point to 1.0 per cent to mark historic low, according to a Reuters poll. 
Follow Emirates 24|7 on Google News.
The dollar held steady against a basket of currencies in cautious trade on Wednesday before jobs data in the United States and interest rates decisions by central banks in Europe.