Dubai gold trade up 53% to $29bn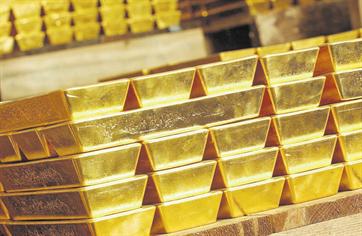 Gold trade through Dubai rose 53 per cent to $29 billion (Dh106bn) in 2008 against $19bn in the previous year with India and Switzerland topping the list of the emirate's export partners.

Gold exports from Dubai reached 371 tonnes in 2008, an increase of 29 per cent compared to 287 tonnes in the previous year, according to statistics released by Dubai Multi Commodities Centre (DMCC).

For the 12 months ending December 31, 2008, about 674 tonnes of gold was imported into Dubai, up 21 per cent compared to 559 tonnes in 2007. More than 100 countries served as gold import partners to Dubai in 2008, led by the UK and India. During the same period, Dubai exported gold to a record 64 nations, with India and Switzerland topping the list of export partners.

According to additional data released yesterday, the total value of the gold traded through Dubai in the second half of 2008 reached $15.99bn, up 57 per cent compared to $10.16bn during the corresponding period in 2007 and up 22 per cent compared to $13.07bn in the first six months of 2008.

"We anticipate that imports into Dubai, destined for refining and re-export, will continue to perform solidly in 2009, while export levels will also be healthy, driven by investment-led demand in major consuming markets such as India," David Rutledge, Chief Executive Officer of DMCC.

"Gold prices surged to an all-time high during the first quarter of 2008 leading to a significant inflow of gold scrap into Dubai for refining. The subsequent slowdown in prices during the last quarter of the year led to a major increase in bullion imports into Dubai, showing that the emirate has become a market for all seasons," he said.

"This upward movement shows Dubai's resilience and adaptability to global trends. The positive figures for 2008 demonstrate the emirate's increasingly important role as a centre for the regional and global gold trade," he said.


DGCX volume rises 33% in January

The overall volumes on the Dubai Gold & Commodities Exchange (DGCX) rose 33 per cent in January 2009 over the previous month.

Gold and currency futures emerged as the key drivers of volume for the month, taking volumes to 38,366 contracts in January 2009 compared to 28,772 contracts in December 2008. Average Daily Volume in January was 1,827 contracts, 21 per cent above the previous month.

"Volumes for the first month of this year had started on an encouraging note despite the challenging global economic environment," said a statement.

The exchange's strategy of offering a diversified product portfolio has paid off, said Nishat Bandali, Chief Marketing Officer, DGCX. "The positive trend in January volumes indicates a fair start to this year."

Bandali said given the current economic climate, market participants are more inclined to transact derivatives on DGCX, to reduce counterparty credit risk. "Operating the region's sole commodity and currency derivatives clearing house, DGCX is well positioned to meet this trend". DGCX is an initiative of the Dubai Multi Commodities Centre, Financial Technologies (India) and Multi Commodity Exchange of India.
Follow Emirates 24|7 on Google News.