Dubai stocks retreat amid continued profit booking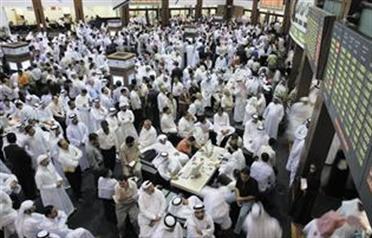 Active stocks at the Dubai Financial Market (DFM) continued to face profit booking and selling pressures for the second session yesterday, which created pressures on the index, making it lose 21.75 points, or 1.37 per cent, and closing at 1568.06 points.

The retreat in the market came along with a sharp decline in turnover compared to the previous session. Trade volume was 442.8 million shares, at a value of Dh629.8 million, nearly 50 per cent down compared to the turnover on Tuesday.

The DFM opened the session with a gain of more than 20 points and fluctuated on the upper side until midday, when buying declined sharply and the market changed its trend to the downside.

Selling pressures hit the DFM and Arabtec stocks, as they retreated by close to their circuit breaker limits – 9.77 and 9.52 per cent respectively. Emaar's stock also faced some selling pressures, but was able to close at Dh2.05 after loosing 2.38 per cent. DIB's stock joined the most active lists yesterday after the bank announced cash and share dividends. The stock rallied by 10.69 per cent to close at Dh2.07.

There was increasing selling pressures on active stocks, especially the DFM, Arabtec and Emaar stocks, for the second session. The selling pressures came mainly from foreign institutions, which were accumulating these stocks since the beginning of the month.

Rumours also spread in the market that there was a new wave of short-selling pressure on some stocks. Market analysts could not confirm this information.

However, DFM data showed that non-Arab foreign investors bought shares worth Dh63.68m and sold shares worth Dh121.35m, making them aggregate sellers of shares worth approximately Dh57.67m.

GCC investors bought share worth Dh58.32m and sold shares of Dh31.62m, becoming net buyers by Dh26.7m. Other Arab investors were also net buyers by Dh11.35m after they bought shares worth Dh139.26m and sold shares of Dh127.91m.

"Despite the decline in turnover during the session, the DFM faced strong selling pressure since the beginning and most of it came from foreign investors, especially institutional ones," said Hosam Al Husseini, head of brokerage at Emaar Financial Services.

"These selling pressures continued for the second session. Most sellers were foreign institutions, which had been accumulating stocks at very low levels since the beginning of February. These pressures dragged the DFM index to close on the lower side and several stocks declined below important support levels."

Al Husseini said continuous selling pressure by foreign institutions reversed decisions of some investors from buy to hold.

"Some investors were preparing to buy more shares during the session, but the movements of foreign institutional investors created concerns and the investors preferred to wait. By midday, buying declined sharply in the market."

He expected selling pressure to continue in the DFM during the next few sessions until foreign institutional investors end this wave of selling.

"These pressures may drag the DFM index to its next support level at 1530-1500 points. We expect this wave of selling pressure will end soon and this will create a sort of stability in the market near its support levels. Next week will be significant in determining the trend for the next two months."

Also, uncertainty among investors created additional pressures on the DFM due to sharp fluctuations in prices of some stocks in the same session.

Market analyst, Nadine Wehbe, said: "The market volatility, along with reduced volumes and values of trading, came from deep indecisive sentiments among investors about future changes in equity prices.

Wehbe agreed that this very high volatility in the DFM created a negative sentiment among investors who were preparing to buy.

"Investors with an appetite for buying were out yesterday. At the same time, foreign investors were selling almost twice what they bought. In fact, these selling pressures created most of the turnover yesterday."
Follow Emirates 24|7 on Google News.