Earnings, outlook hold key for stocks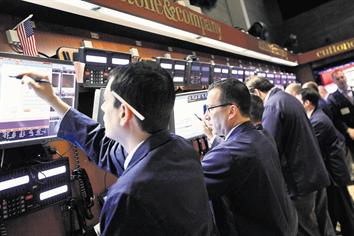 US stocks could be in for a bumpy ride this week as three Dow components kick off the quarterly earnings reporting season, with investors clamouring for reassurances on future profits.

While the latest earnings are widely expected to show a sharp improvement compared to the abysmal 2008 fourth quarter, the stock market could still be in for choppiness if company reports do not point to improved demand.

Aluminium company Alcoa is due to post its fourth-quarter results after the closing bell tomorrow, marking the unofficial start of the reporting season.

Chipmaker Intel is scheduled to release its quarterly scorecard on Thursday, followed by JPMorgan Chase on Friday.

The quality of the earnings, as well as company outlooks, will be closely scrutinised to determine if the optimism that has driven the S&P 500 stock index to 15-month highs is warranted.

For the first week of the new year, the Dow rose 1.8 per cent, the S&P 500 climbed 2.7 per cent and the Nasdaq shot up two per cent. The S&P 500 has risen 69 per cent since US stocks hit a bottom in early March.

Whether companies can give a clear picture of improving prospects will be a major concern for investors, a strategist said.

"Has visibility picked up for 2010? That's going to be more of a driver going forward," said Mike O'Rourke, chief market strategist at Btig, an institutional brokerage firm, in New York.

"I think companies are still going to be cautious with their guidance and their outlooks."

Investors also will watch out for economic data and could be hit with surprises, such as Friday's weaker-than-expected Labour Department report on December non-farm payrolls.

"We may be on the road to recovery, but we need to prepare for some potholes," said John Lynch, managing director and chief market analyst at Charlotte, North Carolina-based Evergreen Investments, with more than $150 billion (Dh550bn) under management.

The US Federal Reserve is set to release its Beige Book on Wednesday, an anecdotal snapshot of regional economic conditions.

The government's report on December retail sales is due out on Thursday, along with data on December import prices and weekly jobless claims. December industrial production data and the Reuters/University of Michigan Surveys of Consumers and the December Consumer Price Index are due out on Friday.

"I would really need to see fundamental justification in the first half of this year that we've got a floor in housing; a ceiling in the unemployment rate; the consumer starts to spend on durable goods and businesses are investing, not only in chips and software, but plant and equipment," said Lynch.

Signs of renewed vigour in profitability should give equities more upside, and some analysts even see the possibility of the S&P 500 heading towards 1200, a key psychological level.

On Friday, US stocks overcame early losses after the non-farm payrolls report to end higher as investors bet that the larger trend was for labour market improvement.

According to Thomson Reuters data, S&P 500 companies are expected to post earnings of $15.80 a share for the fourth quarter after losing money for the same period a year ago. Analysts expect cost-cutting to provide a further underpinning to the bottom line, but revenue is the wild card, and some are pessimistic.

"Topline growth is not going to be there because demand has shrunk so severely and will continue to shrink," said Keith Springer, president of Capital Financial Advisory Services in Sacramento, California.

A positive fourth quarter would mark the first quarter that S&P 500 company earnings grew year-over-year since the second quarter of 2007. The 2008 fourth quarter was the worst earnings quarter in the history of the S&P 500 index.

Alcoa is expected to post a small fourth-quarter profit, but optimism is tempered by concern over aluminim prices and how much the auto and aerospace industries rebounded from the recession.
Keep up with the latest business news from the region with the Emirates Business 24|7 daily newsletter. To subscribe to the newsletter, please click here.
Follow Emirates 24|7 on Google News.