European bonds advance amid concerns about Greece economy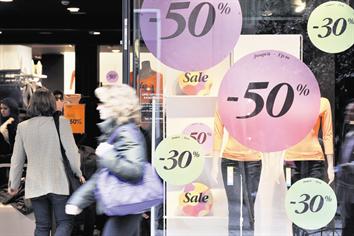 European bonds advanced yesterday amid continued uncertainty about Greece economy. German government bonds rose as investors sought the safest securities amid concern Greece may struggle to sell debt this week, stirring concern about budget financing problems for other nations that use the euro.

"Bunds gained as uncertainty in market sentiment remains high," said Sean Maloney, an interest rate strategist at Nomura International in London.

"Concern about Greece and potential contagion effects continues to plague the euro area, and this week's five-year syndication deal may prove to be make-or-break for non-core markets."

The gains pushed the yield on the 10-year bund down to within two basis points of the lowest since December 21, while the two-year note yield remained within three basis points of the lowest since September 8.

Greece's national debt agency said Friday it had hired six banks to sell at least €3 billion (Dh15.4bn) of five-year bonds.

The yield on the 10-year bund, Europe's benchmark government security, fell basis point to 3.21 per cent in London. The 3.25 per cent security maturing January 2020 rose 0.06, or €60 cents per €1,000 face amount, to €100.35. The two-year note yield was unchanged at 1.11 per cent.

Meanwhile, US treasuries fell, pushing yields up from a one-month low, on speculation a US report this week will show the world's largest economy expanded in the last quarter of 2009 at the fastest pace in almost four years.

Bonds due in 30 years also dropped as traders bet Federal Reserve Chairman Ben Bernanke will win confirmation for a second term to pursue policies for spurring the US economy.

The Treasury Department prepared to auction a record-tying $118 billion (Dh433bn) of two-, five-and seven-year notes starting today.

The benchmark 10-year note yield increased two basis points to 3.63 per cent in London. The 3.375 per cent security due in November 2019 fell 5/32, or $1.56 per $1,000 face amount, to 97 30/32. Yields declined to 3.58 per cent on January 22, the lowest level since December 21. Thirty-year bonds slid 3/32, pushing their yields up one basis point to 4.55 per cent.

Two-year rates climbed to 0.82 per cent from a one-month low of 0.78 per cent set January 22. They will advance to 1.30 per cent by March 31, analysts at JPMorgan Chase led by Srini Ramaswamy in New York said in a report.

"Front-end yields are back near the bottom of their recent ranges and well below our targets," the JPMorgan Chase report said. The company is one of the 18 primary dealers that are required to bid at the government's debt sales.
Keep up with the latest business news from the region with the Emirates Business 24|7 daily newsletter. To subscribe to the newsletter, please click here.
Follow Emirates 24|7 on Google News.