Foreign investors net buyers of DFM shares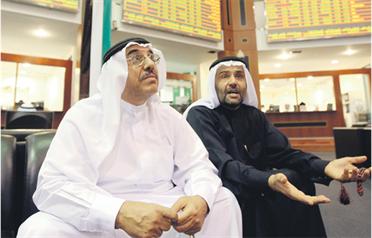 Despite strong selling pressures from foreign investors during some stages in Dubai Financial Market last year, overall foreign investors (non-UAE nationals) were net buyers of shares worth Dh1.407 billion.

Arabs were net buyers of shares worth Dh465.06 million, while GCC nationals were net sellers of shares worth Dh63.83m and other nationalities were net buyers by more than Dh1bn. UAE nationals were net sellers last year. Foreign investors remained strong contributors of activities in the DFM as they dominated almost 40 per cent of the total turnover in the market last year.

Overall institutional investors were also net buyers of shares worth Dh177.4m in 2009. Companies were the only institutional buyers on the DFM as they were net buyers of shares worth Dh405.34m while banks were net sellers of Dh155.49m and other institutions were net sellers of shares worth Dh72.44m.

Institutional investors continued to dominate 20 per cent of trading activities in the DFM.

The DFM index increased by 10.2 per cent during 2009 to end the year at 1803.58 points while the market capitalisation declined by 8.4 per cent to reach Dh213.4bn, mainly due to decrease of market capitalisation of non UAE companies listed in DFM and not included in the DFM Index.

Trade volumes jumped sharply last year as 110.7 billion shares changed hands, a 44.7 per cent increase compared to volumes in 2008. However, the trade values dropped by 43.2 per cent to Dh173.5bn in 2009 compared with Dh305.2bn in 2008. This came amid strong drop in prices of listed stocks in the market. The number of transactions in the DFM also retreated by 6.9 per cent to reach 1.984 million during 2009.

The realty and construction sectors continued to lead transactions with shares changed hands worth Dh100.2m, 57.7 per cent of the total trade value. Investment and financial services also attracted interest from investors.
Keep up with the latest business news from the region with the Emirates Business 24|7 daily newsletter. To subscribe to the newsletter, please click here.
Follow Emirates 24|7 on Google News.