G7 to reaffirm intervention in excess forex volatility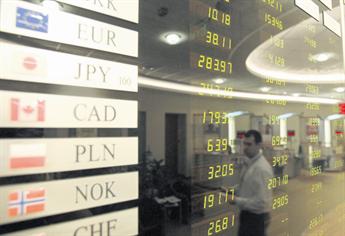 Group of Seven finance chiefs will reaffirm that intervention remains an option in the event of excessive exchange-rate swings, but currency moves are unlikely to be a major topic when they meet in Rome this week, a former senior Bank of Japan official said.

With their economies facing a deepening recession, the major industrialised nations are likely to agree on the need for decisive action to stem the crisis, including further unorthodox steps by central banks, said Eiji Hirano, an assistant governor at the Bank of Japan until 2006.

"The shadow of deflation looms large, so aggressive monetary easing is inevitable," Hirano told Reuters in an interview yesterday. "When the government cannot act speedily even while economic conditions worsen sharply, central banks need to bear the burden and act flexibly to supply liquidity."

Finance ministers and central bank governors from Britain, Canada, France, Germany, Italy, Japan and the United States are due to meet in Rome on Friday and Saturday as they try to find a solution to the deepening credit crunch.

Hirano, now Executive Vice-President of Toyota Financial Services, said that while the yen's appreciation since late last year was hurting Japanese exports, recent currency moves did not warrant serious G7 debate on the need for intervention.

"The G7 nations share an understanding that they stand ready to jointly intervene in the market if currency move are too volatile," Hirano said. "But recent currency moves don't warrant any such action and it's hard to believe foreign exchange would be a focus of debate in Rome."

Jitters over the plight of US and European banks have prompted risk-averse investors to hoard the yen, pushing it to a 13-1/2-year high of 87.10 yen against the dollar last month. The dollar has since regained some ground and stood around 91.50 yen yesterday.

The yen rally has hammered exports and pushed the world's No2 economy deeper into recession, with big exporters such as Toyota Motor Corp and Sony Corp slashing jobs and cutting output to cope with a global slump in demand.

Japan has not stepped into the currency market since March 2004 when it ended a 15-month yen selling spree in which it sold 35 trillion yen (Dh1.3trn or $380 billion) to prevent yen strength from snuffing out an economic recovery.

G7 financial leaders are likely to reassure markets this week that they stand ready to act to prevent more trouble for the economy, but are unlikely to launch any new major initiatives, a G7 source said.
Follow Emirates 24|7 on Google News.