GCC Investor Confidence Index falls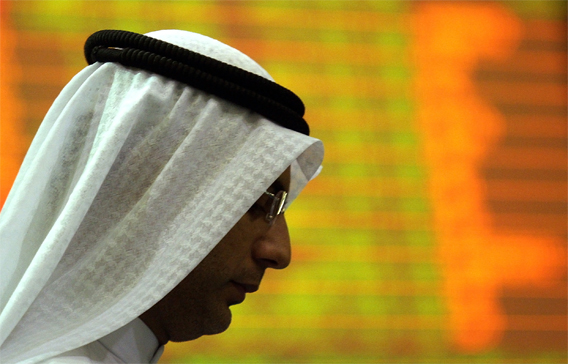 The GCC Investor Confidence Index fell 8.9 points in February as uncertainty among investors continued to weigh heavily on investor sentiment towards the region. After December's significant second half gains, the GCC Index recorded two months of consecutive declines, falling to 105.6 points, according to Shuaa Capital's monthly survey.
This shows overall investor confidence remained positive for Gulf Co-operation Council (GCC) states as an index reading of above 100 points signals positive sentiment. The UAE, Saudi Arabia and Qatar's investor confidence indices all lost ground compared to last month. The UAE Index fell 11.7 points, leaving the Emirates Index at 84.4 points. Despite marking an 8.6 points loss in January, Saudi Arabia's Index was strongest at 133.8 points, followed closely by Qatar, which saw a loss of 5.8 points to 125 points.
Kuwait was the only state to see positive movement, rising 9.7 points to 96.9 points. However, this was below the 100-point threshold, indicating negative investor confidence. Bahrain's Investor Confidence Index slipped 1.9 points to 95 points while Oman's Index saw a 1.8 point fall to 108.1 points.
Investors' views on the current state of GCC economies have significantly declined since January. The GCC as a whole, lost 19.1 per cent on balance as it moved from 11.6 per cent at the end of January to minus 7.5 per cent on balance this month.
Kuwait was the only GCC economy to record significant gains in respect of current economic conditions, as it gained 14.9 per cent this month. Despite this gain, Kuwait remained in negative territory at minus 20 per cent. Kuwait's gain means that it is no longer seen as the weakest performing economy in the GCC.
Saudi Arabia and Qatar, which saw their balance figures for the current state of their economies fall by 6.7 per cent and 16.7 per cent respectively, continued to lead the way for the region at 37.5 per cent and 27.5 per cent, respectively. Meanwhile, Bahrain and Oman saw little change to investors' view of their current economic conditions as they moved by 1.1 per cent and minus 4.3 per cent to minus 17.5 per cent and five per cent respectively. The UAE recorded a loss of 21.6 per cent to minus 42.5 per cent in February.
The decline was not restricted to this region. BRIC countries – Brazil, Russia, India and China – fell 14.2 per cent to 30 per cent and the view on Global Emerging Markets economies decreased by 21.9 per cent to 20 per cent. Also, the six month investor outlook for the GCC as a whole remained in positive territory at 20 per cent, although this was a 14.9 per cent drop on January's 34.9 per cent.
Saudi Arabia leads the way for the GCC again this month with a strong on balance figure of 40 per cent for its six-month outlook, although it did record a 15.8 per cent decline to its on balance figure. Qatar too slid by 9.9 per cent on-balance, but remained positive at 25 per cent.
Bahrain and Kuwait moved into relatively neutral territory at minus 2.5 per cent and 7.5 per cent on balance. Meanwhile, Oman's six-month economic outlook remained relatively unchanged at 15 per cent on balance. The UAE went into negative territory after its index declined 19.1 per cent to minus 7.5 per cent.
Strong profitability ahead
All sectors, except for real estate, construction and financial institutions are expected to record strong increases in their profitability over the next six months, say Shuaa Capital survey respondents.
Telecom, media and technology are, once again, expected to be the most profitable, with 35 per cent on balance.
Pharmaceuticals and transportation and logistics both have on balance figures of 30 per cent after slight gains, while the utilities sector is not far behind at 25 per cent.
Regional markets undervalued
Looking at whether investors feel a range of regional and international markets are undervalued or not, the report showed that investors are seeing increasing value in global markets.
However, regional markets continue to be perceived as having more value in their stocks. Particularly undervalued are believed to be the Abu Dhabi Stock Exchange, the Doha Stock Market and the Saudi Stock Exchange, with on balance figures for February of 15 per cent, 17.5 per cent and 12.5 per cent respectively.
The Bahrain Stock Exchange (minus five per cent), Dubai Financial Market (zero per cent), Kuwait Stock Exchange (zero per cent), Nasdaq Dubai (minus 2.5 per cent) and Oman Stock Exchange (zero per cent) are seen as offering relatively fair value to investors.
Investors' six-month outlook for regional stocks was positive this month for regional markets. The view towards the Saudi Stock Exchange was relatively unchanged and is expected to set the standard for the region with an on balance figure of 45 per cent.
Also in healthy positive territory is the Doha Stock Market, which had an on balance figure of 30 per cent for February. The Oman Stock Exchange and Abu Dhabi Stock Exchange are expected to see some gains over the next six months, with on balance figures of 12.5 per cent and 10 per cent respectively.
Bahrain and Kuwait have neutral outlooks, with on balance figures of five per cent and zero per cent respectively. The Nasdaq Dubai and Dubai Financial Market both recorded losses of 8.9 per cent and 16.2 per cent which left them with on balance figures of minus 27.5 per cent and minus 32.5 per cent respectively.
Keep up with the latest business news from the region with the Emirates Business 24|7 daily newsletter. To subscribe to the newsletter, please click here.
Follow Emirates 24|7 on Google News.