Global markets slide as Obama signs stimulus bill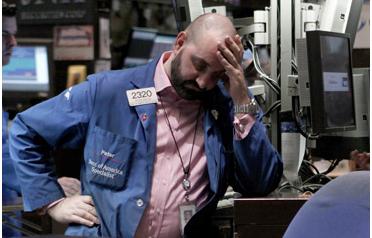 Markets saw new turmoil amid fears the stimulus and other moves to prop up banks may be too little to avert a deeper economic crisis.
Frederic Dickson at DA Davidson said the economic stimulus package "hasn't inspired investors, as many have lingering questions about the timing and its ability to achieve near-term economic stability."
The IMF meanwhile warned that economic recovery efforts were foundering, as Russia forecast its first recession since the 1998 financial collapse.
The markets remained fearful following news Monday that Japan's economy shrank at an annualized pace of 12.7 per cent in the fourth quarter of 2008, the worst performance since 1974 for gross domestic product.
The dollar rallied on a move to safety as Moody's Investors Service warned that western European banks may suffer downgrades because of problems in Central and Eastern Europe, sending down the euro as well as local currencies.
"Japan's worse than expected GDP release spooked global recession-watchers, who are also worried about Eastern Europe's currency woes," said Sara Kline at Moody's Economy.com.
Obama said the enactment of the stimulus bill, designed to create or save 3.5 million jobs, overhaul the creaking US infrastructure and launch a healing wave of consumer spending, was a watershed.
And with US automakers on the brink, General Motors and Chrysler were also delivering their long-term viability plans to the US government as a condition for a $17.4-billion bailout.
Chrysler said it would need an additional $5 billion to ensure its survival, as the key industry reshapes in the wake of a collapse in auto sales.
After receiving the automakers' report, White House spokesman Robert Gibbs said the auto sector was not out of the woods yet.
"It is clear that going forward, more will be required from everyone involved - creditors, suppliers, dealers, labor and auto executives themselves - to ensure the viability of these companies going forward," Gibbs said.
US stocks plunged on Tuesday to November lows.
The Dow Jones Industrial Average sank a whopping 3.79 per cent to finish at 7,552.60. The tech-dominated Nasdaq dropped 4.15 per cent to 1,470.66 and the broad-market Standard & Poor's 500 index retreated 4.56 per cent to 789.17.
The blue-chip Dow index ended within a whisker of its November low, when it closed at 7,552.29.
Jittery European markets fell hard on Tuesday on fears for the health of the banking and automobile sectors.
"The markets are jumpy and turn weaker at the slightest uncertainty," said Alice Lhabouz of Turgot Asset Management in Paris.
In London the FTSE 100 index lost 2.43 per cent to close at 4,034.13, while in Paris the CAC 40 shed 2.94 per cent to finish at 2,875.23. The Dax in Frankfurt fell 3.44 per cent to 4,216.60.
In Russia, the economic downturn has led to warnings about increased social unrest and political instability. The 1998 crisis wiped out the earnings of millions of people and sparked massive anti-government protests.
"The forecast has worsened to a 2.2 per cent contraction in GDP (gross domestic product)" for 2009, Deputy Economic Development Minister Andrei Klepach was quoted as saying by Russian news agencies.
The cut in the GDP forecast came a day after the statistics office said industrial production in the once-booming economy plunged by 16 per cent in January compared with January 2008 – its worst fall for 15 years.
Adding to global fears about the scale of the economic crisis, the International Monetary Fund said the recovery efforts launched by the world's top economies were being undermined by blighted bank balances.
"The whole world's financial system is not yet healthy and thus recovery effects are not sufficiently strong," IMF chief Dominique Strauss-Kahn told France Inter radio.
"We must finish the job of cleansing bank balance sheets," he said.
Oil prices tumbled along with equities markets as investors worried about weakening energy demand in the stalling global economy.
New York's main futures contract, light sweet crude for delivery in March, sank to $34.93 a barrel, down $2.58 from its close on Friday.
Follow Emirates 24|7 on Google News.
A fresh wave of panic swept global markets on Tuesday even as US President Barack Obama signed a $787-billion (Dh2.9 trillion) stimulus bill aimed at reviving a recession-ravaged US economy.