Global stock markets see fresh turmoil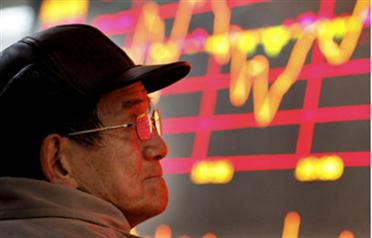 Stock markets in Asia and Europe suffered losses on Monday after Wall Street sank to 12-year lows in the face of deepening gloom over the global economy and the plight of major banks.
A plunge in Japanese new vehicle sales and a record contraction in factory output in South Korea added to worries about the region's economic downturn as consumer demand slumps in recession-hit Western markets.
Fears over the health of the banking sector grew after HSBC announced plans to slash 6,100 jobs and raise almost 18 billion dollars after the financial crisis sent its profits plunging.
Asian stocks fell sharply, with Tokyo ending down 3.81 per cent, close to last week's four-month lows. Sydney slid 2.8 per cent to the weakest level in five years, Seoul tumbled 4.2 per cent and Hong Kong ended 3.9 per cent lower.
"There's just no good news," Macquarie Private Wealth associate director David Halliday told Dow Jones Newswires. "The US economy is in the worst shape it's been for probably 50 or 60 years, so it's hard for equities to rally."
One bright spot was Shanghai where shares closed up 0.51 per cent on optimism over the government's stimulus plans.
European markets started the week on a gloomy note. London opened 0.61 per cent lower before slumping to 3.0 per cent, Paris sank 2.4 per cent and Frankfurt lost 0.7 per cent in early trade.
Investors took their cue from New York, where the Dow Jones slid 4.1 per cent to end Friday at its lowest level since 1997, while the broad-market Standard & Poor's 500 sank 4.5 per cent to its worst close since December 1996.
The coming week could bring more bad news, with February US auto sales expected to be weak and a payrolls survey expected to show further massive job losses.
The Dow has dropped 19.5 per cent so far this year while Japan's Nikkei is down almost 18 per cent and Hong Kong's Hang Seng is off 15 per cent.
Investors were disappointed by news of a 6.2 per cent contraction in the US economy in the fourth quarter of last year that was far worse than the earlier government estimate of a 3.8 per cent decline.
Also denting sentiment was an announcement that the US government would own up to 36 per cent of Citigroup under a deal to convert up to $25 billion of public capital injected into the ailing bank to ordinary shares.
The conversion does not call for more government funds but helps shore up the troubled banking giant's capital position. "This increased fears that a creeping nationalisation of other banks is likely, and that current investors would be all but wiped out," said Dariusz Kowalczyk, chief investment strategist at SJS Markets in Hong Kong.
There was also more bad news from Asia. In Japan, new vehicle sales plunged 32 per cent last month, the steepest decline for the month of February since 1974. The seventh straight-month decline comes as Asia's biggest economy endures its worst recession in decades.
South Korea's export-dominated economy suffered its sharpest-ever fall in industrial output of 25.6 per cent year-on-year in January, official data showed. Elsewhere in the region, Taipei shed 2.88 per cent, Manila slipped 0.8 per cent and Wellington closed down 1.62 per cent.
Follow Emirates 24|7 on Google News.