Gold edges down after hitting new high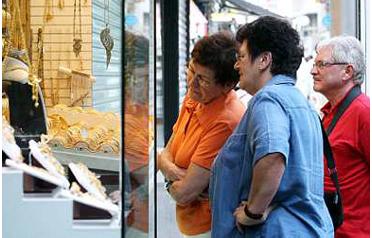 Technically, the yellow metal is overbought in the short term, although another record in the holdings of the world's largest gold-backed exchange-traded fund, the SPDR Gold Trust, highlighted robust interest by investors.
Spot gold was trading at $977.30 an ounce by 0329 GMT, down 0.8 per cent from New York's notional close on Wednesday.
Earlier on Thursday it briefly rose as high as $985.95, its highest since July. It is now about 4 per cent below the all-time high of $1,030.80 marked in March, when record oil and uncertainties in the dollar's outlook spurred buying.
In other markets, the dollar stayed near a six-week high against the yen and a three-month peak versus the euro, both marked on Wednesday, when President Barack Obama pledged up to $275 billion to stem US home foreclosures.
But gold has reacted little to the dollar's rally.
The precious metal has lost a traditional negative correlation with the dollar in the past few months. Gold has also benefited from long-term inflation worries, as many countries are printing money to stimulate sluggish economies and central banks have loosened credit, analysts said.
"The next target is $1,030, having cleared the high set in October of $930," said Naomi Suzuki, an analyst at SCM Securities in Tokyo, referring to last week's move.
"Gold is a relative choice. It is benefiting from instability in the global economy, fears of super inflation in the coming years and investor aversion from more complicated, riskier assets, like hedge funds," she said.
UBS said earlier this week that global assets of hedge funds may drop to $1.2 trillion by the end of the first quarter, down more than 35 percent from a peak in mid-2008, as the number of managers decline and funds rely less on strategies that use leverage.
In contrast, the holdings of the SPDR Gold Trust hit a record 1,024.09 tonnes as of February 18, up almost 250 tonnes in the year to date and compared with 780 tonnes in the prior four years since its listing in November 2004.
But there is caution about gold's future volatility.
Also, analysts say a slump in jewellery demand may weigh on the precious metal in the long run.
US gold futures for April delivery stood at $979 an ounce in electronic trade, up 0.1 per cent from the previous close on the Comex division of the New York Mercantile Exchange.
Follow Emirates 24|7 on Google News.
Gold slipped on Thursday, taking a breather after hitting a new seven-month high in early trade, as it consolidated gains before a widely anticipated challenge to a fresh peak near $1,000 (Dh3,680) on safe-haven buying.