'Gold needs to drop further to spur retail sales'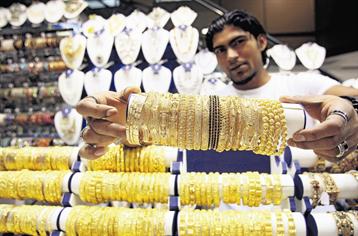 Jewellers in Dubai said that they will need gold prices to range between $950 and $980 an ounce to achieve substantial retail sales.

The comment comes even as gold began its upward journey from weekend lows of $1,045 an ounce.

"We will need gold to be priced between $950 and $980 an ounce. The corresponding retail prices will then be Dh110 per gram for 22 carat gold and Dh118 per gram from 24 carat gold," said Amit Dhakan, of Dubai- based Dhakan Jewellers. The retail price of gold being sold in Dubai yesterday stood at about Dh126 an ounce for 24 carat gold and Dh120 for 22 carat gold.

Dhakan said jewellers in Dubai are recording a five to 10 per cent rise in sales volume. "This is a very small rise." The trend of retail gold sale in Dubai contrasts with that of futures gold trade. Valued at $9.187 billion (Dh33.73bn), trading in January at the local commodities exchange, the Dubai Gold and Commodities Exchange (DGCX), was led by gold futures, which recorded 42,289 contracts last month.

However, gold whole-sellers said that they have been witnessing a decline in demand. Strange as it may sound, the demand for gold in bulk had risen when the prices had crossed $1,200 an ounce late last year, a Dubai-based trader who deals in gold in bulk said. "Volumes in February have risen over January. However, overall they remain low," said Sanjay Jain of Al Mowaji Jewellers.

Gold prices steadied at around $1,066.50 an ounce yesterday, having risen from the levels of $1,045 an ounce it had descended to on Friday, as people flocked to the jewellery showrooms. "They just came in good numbers but did not buy. They want prices to descend further," Dhakan said.

Gold prices rose marginally yesterday amid comments from analysts that it may rise to $1,150 an ounce in a not very distant future. The bullion was selling at $1,066.50 an ounce in the international markets, having risen 0.39 per cent from Friday's close. "The feeling among investors that gold is one of the safest mode of investments has not evaporated. People are still coming to buy," said Fahim Rashid, the head of marketing (Middle East) with GTL Trading.

Gold lost value recently as the dollar strengthened because of good employment data. The bullion has been termed a hedge against the dollar and forex traders said that the yellow metal will lose value every time the dollar strengthens on the back of better economic data.

Private US employers reported the smallest payroll decline in nearly two years in January while the vast US services sector grew slightly, data showed last Wednesday. Holdings at the world's largest gold-backed exchange-traded fund, SPDR Gold Trust, eased 0.14 per cent to 1,110.339 tonnes as of February 3, down 1.583 tonnes from the previous business day. Its holdings had stood unchanged for about two weeks.

Analysts apparently are converging on the bullion attaining a price of $1,150 an ounce in a short future. "Strong physical demand from India and China has been a feature recently. However, the way this week's rally has fizzled out is a concern and a test of the 100-day moving average pegged at $1,095 now seems likely ahead of the weekend. On the upside, the stiff resistance is at $1,150 an ounce," said Jeffrey Rhodes, CEO of Dubai-based INTL Commodities.

Goldman Sachs had earlier predicted the average price of gold in 2010 at $1,350 an ounce.
Keep up with the latest business news from the region with the Emirates Business 24|7 daily newsletter. To subscribe to the newsletter, please click here.
Follow Emirates 24|7 on Google News.