Gold price may peak at $1,300 by March or May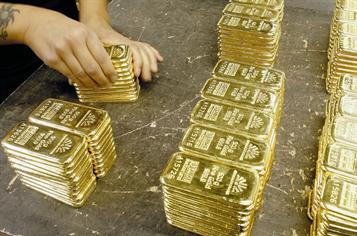 With investments in gold heading towards more than 100 per cent growth in 2009 from 2007, the price of the yellow metal is poised to reach the level of $1,190 or $1,300 an ounce in March or May this year, according to a technical report by Citi Investment Research, a division of Citigroup Global Markets.

The research firm, in its outlook for gold, which peaked last year at $1,004 and entered a correctional phase, said the focus moving forward will be on whether gold stays on its upward trajectory and penetrates resistance at $933. Gold breached the high of $909 on September 22, 2008.

"We think a push through $933 would increase the likelihood of gold renewing last spring's all-time high at an early stage and rising to $1,190 or $1,300 in March or May," said Yutaka Yoshino in the report.

He anticipated the gold price, which is hovering at $912, may face near term resistance at $913 and if it breaks above then chances will be higher for it to touch $986. "This coming March (return of 158 and 59-month cycles) and May (98-monthcycle) are important months from the standpoint of time cycle analysis," said Yoshino.

The report furnishes two instances in which key factors affect gold price movements. "In scenario 1, if gold breaks above $933 and appreciates further to breach $986, we think it will likely surpass last spring's high of $1,004 (2008/3/8). If this happens, it could ultimately rise to $1,190 or $1,300. In scenario 2, if gold peaks at $933, it would be vulnerable to a pullback, but we see the correction playing out after a drop of about $77 or $128. In this case, gold would be more likely to struggle for direction until around March and then break out of the holding pattern held since last spring, rising to $1,190 or $1,300 in May or thereafter."

After reaching $1,004 last spring, gold entered a correctional phase, but it did not correct as much as crude oil or non-ferrous metals and bottomed. After that, it broke out of the bear flag pattern it had traced since last summer and rose further to breach last autumn's rebound high of $909 (2008/9/22), virtually assuring that a new rising wave is in progress.

"We estimate that investment demand will double in 2009 compared to 2007 and based on simple regression modelling, we estimate that this will drive gold to an average $1,000/oz in 2009, from $700/oz previously. We expect this safe haven buying to decline in 2010 and forecast gold will average $900/oz that year," he said in the report.

The report has also raised its forecast for silver and platinum. "We believe higher gold prices will lift silver and platinum in sympathy and we have made large upgrades to our forecasts. We now see silver averaging $14.75/oz in 2009 and $12.80/oz in 2010. Platinum very rarely trades at a discount to gold and when it does, the discounts are short lived. We have lifted our platinum price forecasts for 2009 only and now see $1050 in 2010."
Follow Emirates 24|7 on Google News.