Gold price swings put jewellers in a fix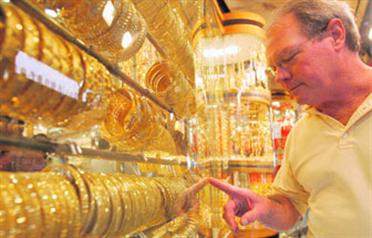 Wide fluctuations in international gold prices have left several gold traders dealing in "unfix trading" high and dry, as price swings swallow the whole margin in the business, sources in the market said.

Many retail gold jewellers have burnt their fingers in the unfix trading as intra-day fluctuations in international gold prices have eaten into the entire profit of the jeweller on that day. "There are some days when the rise in gold prices has far exceeded the entire profit itself," said a jeweller in Gold Land, a complex in Dubai's Gold Souk, where many leading retailers have a presence.

Though there are cash-down purchases taking place in the market, unfix trading has become a hallmark of Dubai's Gold Souk, whereby the gold traders buy gold by paying a margin and leave the deal open.

If gold prices rise in the international market, the trader gets the margin call and is required to pay up the difference in price on that particular day.

It is the call of the trader whether to settle the deal then or carry forward the settlement by just equalising the price through the margin.

"A trader is entitled to settle the 'unfix trading' at any market level at his will – provided he has equalised the price by paying up the margin – and makes good the upward price movement in the market," an expert in the trade said.

"Ideally, a trader should replenish his stock the next day itself by buying an equal volume of gold that he has sold the previous day. And in this case, the slight fluctuation upwards could be absorbed by the profit he makes on the sale," said Joy Alukkas, Chairman of JoyAlukkas Jewellers, one of the leading jewellery networks in the region with more than 60 outlets. The wild fluctuation in gold price started around the last quarter of 2007 when the price went past $700 an ounce and then crossed the previous record of $850 per ounce set in 1980. On March 13, 2008, the market witnessed the record price of $1,033 per ounce against yesterday's price of $940.

Joy Alukkas said though banks currently offer gold loans, unless proper hedging is done against the soaring gold prices through the forward market, traders could end up paying huge margins to the bank against the rise in the yellow metal's price internationally.
Follow Emirates 24|7 on Google News.