Gold prices likely to face correction, say analysts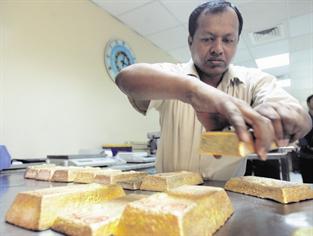 A correction in gold prices is likely as the prices currently look "unnatural", senior commodities analysts associated with Dubai Gold and Commodities Exchange (DGCX) said.

Analysts predict a range of $970 an ounce to $1,030 an ounce in gold prices in the near future.

Gold futures for June delivery last traded at $ 995.04 an ounce at the Dubai based exchange. The price was $20.60 an ounce higher than the previous closing price. Gold futures for April delivery traded at $ 991.98 an ounce – $19.60 higher than the last closing price. Gold futures closed at $994.40 an ounce at the Comex on Friday having risen 1.6 per cent from the previous days close. Analysts say that a correlation has developed in between DGCX prices and the other major commodities exchanges. The yellow metal had briefly risen to its 12 month high on Friday when gold crossed $1,000 an ounce mark in exchanges across the world.

"There is something unnatural about such prices. A correction is very much likely. The prices are being jacked internationally. This seems a planned move. It should not be going this way," said Babu K Lonappan, the director of JRG metals and commodities, a brokerage house registered with DGCX. Lonappan said prices at this point of time were rationally expected at $950 an ounce.

Analysts say that the gold prices will fluctuate between $970 an ounce and $1,030 levels in short to medium term.

"Gold has developed an inverse relation with the equities market. The moment the confidence at the equities market shakes investments flow into the gold market and the gold prices rise," said Sajith Kumar PK, the Vice- President (metals and commodities) with JRG metals and commodities. High gold prices come at a time when investors across the world are shifting to gold as a safe haven for investments. Analysts say that when the volume of trade in other commodities is showing a decline, gold volumes have gone up.

DGCX futures for delivery in April witnessed 721 contracts worth 22.89 million on Friday a high number as compared to an average day trading at the exchange. It also recorded the highest volume as compared to other futures traded on the exchange.

Gold prices have risen astronomically since the advent of 2009. And there are expectations that they may shoot much higher.
Follow Emirates 24|7 on Google News.