Gold to continue its bullish show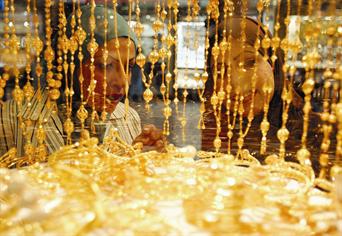 Gold would continue to enjoy the status of a safe haven during the current economic turmoil, analysts said. The view, however, comes with a rider. Intermittent flow of good news and rumours typical to the gold markets will ensure that the gold prices that have recently adopted a less aggressive course find support at $930 an ounce or $880 an ounce levels.

Yesterday, the Gold futures contract meant for expiry in June at Dubai Gold and Commodities Exchange (DGCX) traded at $941.76 an ounce.

Gold recorded an intra day high of $945 an ounce and a low of $ 940 an ounce. On the Commodities Exchange in New York, gold yesterday recorded a spot price of $943.50 an ounce. Gold for delivery in April stood beyond $944.10 an ounce.

The prices made a high last week of $955.60 (contracts for delivery in June) an ounce. The prices began declining since the last week, triggering fears that they will find support at $930 an ounce or at even lower prices.

Following are the factors driving the correction in the gold markets. One, the IMF wants to dispose about 140 metric tonnes of gold in the markets to raise some cash it desperately needs. Secondly, the central banks are waiting to sell their annual quota of gold and the deadline of a mutual agreement under which they are allocated their sale quotas is approaching closer. And third, the one that has had the most immediate impact, there is news that Japan has just given a huge aid to Sri Lanka and the amount has been paid in gold.

"There is a selling pressure from IMF. There is news that IMF may sell gold at any point of time," said Sajith Kumar PK, Vice-President, JRG Metals and Commodities, UAE.

Gold prices slipped on Friday after the news that the United States was working on a programme to subsidise mortgages for investors before they fall into loan arrears. Analysts say that if the gold prices decline by $15 it can assumed that it has taken a bearish trend. "As of now, it still maintains a bullish trend," said Anoop P S, General Manager, UAE operations, JRG capital.

There is not significant difference between spot and future gold prices and the difference, which if it exists, comes in due to the dollar prices.

"The basic difference the spot prices and future prices is the dollar spending. The borrowing cost of the dollar reflects in the future price. On other commodities like crude oil, you have factors like storage costs that add up to future costs. Gold prices, therefore, look balanced," said Ole S Hansen, a senior commodities analyst with Denmark-based Saxo Bank.

Hansen said gold's importance has enhanced during the current crisis. "It will be right argument to make that gold has developed an inverse relationship with the economy. When the economy improves, there are a lot of other investment opportunities that will emerge. Whereas gold will be safe haven for investors if the crisis continues to deepen," he said.

Gold is being used to hedge against future inflation, worries about massive budget deficits and that low short-term interest rates makes it cheaper to hold than previously, Hansen said.

Merrill Lynch CIO Gary Dugan recently told journalists in Dubai that he fears the gold prices would rise as high as $1,500 an ounce in 15 months time. Dugan said such a phenomenon would mean that the economy has worsened and that the investors have lost the confidence to invest in other commodities. "More and more people are buying gold," he said.

Gold market watchers are keeping a close eye on the date September 26, 2009. That is when the current European Central Bank Gold Agreement (CBGA) expires.

According to IMF, the official gold reserves (including those of IMF and BIS) amounted to around 35,580 tonnes at the end of 1990. By mid-2008, this had reduced to around 29,780 tonnes, a 16 per cent fall. The vast majority of the 5,800 tonnes reduction was due to sales by European central banks, notably signatories to the two central bank gold agreements (CBGA 1 and CBGA 2) whose reported holdings reduced by over 5,500 tonnes.

The reason, said Sajith, was that European Central Banks own gold as a reserve asset. Indeed, the signatories of the first Central Banks Gold Agreement (CBGA) controlled 43.6 per cent of the world's official gold reserves, according to the World Gold Council. The second CBGA was then signed in 2004 and limited sales to a maximum of 500 tonnes per year over five years (2,500 tonnes over the length of the agreement). And with the expansion of the European Union since then, CBGA signatories now control 46.1 per cent of world-government gold reserves.

The CBGA was signed earlier to control the flow of gold into the markets and in all likelihood will be extended beyond the September 26 deadline, Sajith said.

There is a likelihood that the central banks will sell lesser amount of gold this year. "The other assets are simply not reliable. Gold is now accessible to retail investors in a way it wasn't in 1999. ETFs now own over 1,000 tonnes of gold. Gold ownership among private investors has also enhanced due to initiatives like GoldMoney. There are buyers looking for gold and wanting to shed other investments. So, it is not mere speculation that central banks will hold their gold this year," an analyst said. "As competition emerges among nations to devaluate their currency, we think gold will become much more desirable as a reserve asset worth owning, not selling for cash," he added.
Follow Emirates 24|7 on Google News.