Gulf markets mixed as Asian shares decline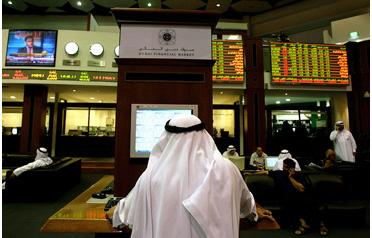 Abu Dhabi's benchmark leads losses shedding 0.55 per cent to 2,196.72 points. Arkan Building Materials Co tumbles 8.32 per cent, while Aldar Properties eases by 0.45 per cent.
In Dubai, Union Properties and Air Arabia lead gains, rising 3.13 per cent and 1.05 per cent respectively. Air Arabia said on Sunday it had posted a 45 per cent rise in fourth-quarter profit.
Emaar Properties reverses gains from Monday, slipping 1.07 per cent, while Shuaa Capital extends declines after reporting a fourth-quarter loss on Sunday. It is down 3.16 per cent.
The DFM index is up 0.43 per cent to 1,494 points.
Analysts said investors in Dubai may speculate on real estate stocks fuelled by market talk of a bailout for the sector.
"There will be low volumes with some speculation on real estate companies in Dubai with so many rumours about a possible bailout for real estate," says Samer al-Jaouni, general manager of Middle East Financial Brokerage Co.
Dubai-based real estate and construction companies could get more help from the state, Dubai crisis committee member, Omar bin Sulaiman said on Monday.
Kuwait's benchmark slips as uncertainty over a bailout package for the financial sector reigns. Global Investment House sheds 5.19 per cent as the index falls 0.24 per cent to 6,560.5 points.
Oman's benchmark edges 0.33 per cent higher to 4,933 points as Oman Telecommunications Co rises 0.68 per cent.
Asian stocks fell on Tuesday, with Japan's Nikkei hitting a three-month low, while the US dollar surged as investors scrambled for safety from deteriorating global economic conditions and volatile banks.
Follow Emirates 24|7 on Google News.
Most Gulf Arab markets are mixed in early trade as investors remain cautious after declines across Asian markets.