Gulf stocks see limited gains despite cheap prices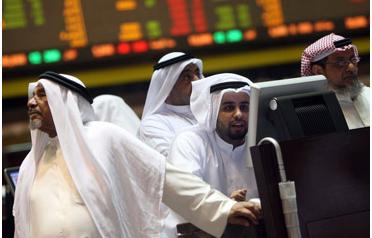 Dubai's main index, which fell more than 2 per cent on Monday and is down more than 83 per cent since the start of 2008, could take cue from Arabtec Holding.
Arabtec, whose shares have slumped just over 60 per cent this year, posted a slight decline in fourth-quarter profit on Monday as full-year profit soared. It said on Monday it was looking to expand in Qatar and Saudi Arabia to offset the impact of a property market slowdown in Dubai.
"Usually profit announcements have already been discounted in prices and the problem these days is investors are looking ahead," says Hamood Abdulla al-Yasi, general manager at Emirates International Securities. Dubai shares trade at four or five times 2008 earnings, he says.
Elsewhere in the Gulf, analysts said Qatar and Saudi shares could continue to make slight gains in view of the Gulf states' expansionary government policies and growth prospects.
"This year might be a good year for Qatar, Saudi Arabia and possibly Abu Dhabi," says Alfred Hayek, director in the GCC institutional desk at EFG-Hermes.
Gulf banks and property firms that have yet to report results could experience the brunt of selling pressures on Monday, he adds.
Kuwaiti shares, meanwhile, are poised to extend declines after falling more than 2 per cent on Monday in profit-taking that happened after the state approved a $5 billion economic aid package.
Follow Emirates 24|7 on Google News.
Gulf Arab markets are expected to make little, if any, gains on Tuesday as investors continue to stand on the sidelines as concerns about oil below $40 (Dh147) a barrel and a property slowdown outweigh cheap stock valuations.