Hamdan announces DWTC expansion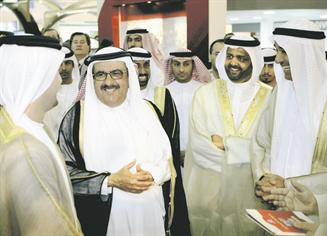 Sheikh Hamdan bin Rashid Al Maktoum, the Deputy Ruler of Dubai and the UAE Finance Minister, opened Gulfood 2009 yesterday at the Dubai World Trade Centre.

The event is the largest food, drink, foodservice and hospitality equipment exhibition in the region and includes more than 3,300 local and international exhibiting companies with 76 countries represented.

After the opening ceremony, Sheikh Hamdan toured the exhibition. The most modern food products and kitchen equipment with up-to-date technology and food services are being showcased at the four-day event.

Sheikh Hamdan, Chairman of the Dubai World Trade Centre, announced the new extension of exhibition space at DWTC that will commence construction immediately, for the space to be available by the end of 2009. With the extension, DWTC facilities will provide one million square feet in overall covered exhibition space.

Sheikh Hamdan said the Gulfood 2009 has grown by 20 per cent, which demonstrates that the food sector has not been affected by the global economic downturn, and the emirate's market is still growing and continues to be the preferred destination internationally despite economic conditions.

Helal Almarri, CEO of Dubai World Trade Centre, said that the Gulfood 2009, which has been running for 14 years, creates ideal opportunities for specialised companies to enhance their position, product, marketing and investment activities in the region through the UAE market.
Follow Emirates 24|7 on Google News.