High prices and global woes take shine off Abu Dhabi gold market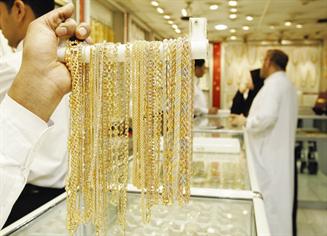 High prices and the global economic downturn have battered Abu Dhabi's gold market, cutting retail sales by more than 70 per cent on the year in February, according to the chairman of the Gold and Jewellery Group (GJG).

Investors have used gold as a shelter from the impact of the deteriorating economy on other assets, pushing the price up and making jewellery expensive for consumers with shrinking disposable income.

"It is going from bad to worse. It has not picked up," said GJG Chairman Tushar Patni. "The price is still high. Buyers are staying away and the gloom in the market continues." Retail sales in Abu Dhabi dropped at least 70 per cent in February, a little more than the 70 per cent fall in January, he said.

Sales will improve if gold prices come down but given the economic climate, it may take several months more, he said. "Even credit is not available easily and that is making things difficult for traders," Patni said.

Spot gold traded about $1,000 (Dh3,673) an ounce in February for the first time in nearly a year. It has since fallen to just under $940.

Abu Dhabi has 85 gold shops and its own jewellery manufacturers.
Follow Emirates 24|7 on Google News.