IMF urges Qatar to depeg if dollar declines again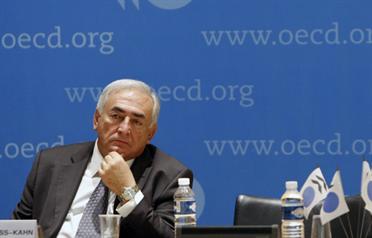 The International Monetary Fund (IMF) has urged Qatar to depeg its rial from the dollar if it falls again and drives inflation back upwards.

In its annual review about Qatar's economy, the fund said it expected the recent strengthening of the dollar and a sharp drop in global commodity prices to push Qatar's inflation down in 2009 after three years of a rapid rise.

The Washington-based IMF said its staff, who has just completed consultations with Qatari authorities, supported the Gulf country's commitment to the peg between its currency and the dollar before the creation of the monetary union that will group Qatar with the other Gulf Co-operation Council (GCC) members.

But it noted that although the peg has facilitated growth and macroeconomic stability and anchored monetary policy, the inflationary experience of the last few years has highlighted the complications for macroeconomic management when economic cycles and policy needs differ from that of the anchor country.

"Recently, the argument for a revaluation of the riyal has been significantly reduced as international prices for food and raw materials have declined, and the dollar has appreciated against major currencies," it said.

"Staff is of the view that if inflation persists in the period leading up to the GCC monetary union, and the value of the dollar reverses course [depreciates] for a sustained period, the [Qatari] authorities may need then to consider other options, such as pegging to a basket of currencies."

Except for Kuwait, whose dinar is linked to a basket of currencies, the currencies of the other five GCC members have remained pegged to the dollar for more than three decades. GCC nations, which are planning a landmark monetary union by 2010, have blamed the dollar's decline and other factors for soaring inflation rates over the past two to three years. Qatar has recorded the highest inflation rate in the GCC given its domestic demand, a surge in its economy, and a severe housing supply gap.

Inflation in Qatar, which controls the world's third-largest gas deposits after Russia and Iran, peaked at around 15 per cent in 2008 but it projected to decline to nearly 10 per cent this year mainly because of lower global prices.

"Inflation in Qatar is projected to fall to about 10 per cent in 2009 as a result of the pass-through of declining international prices for food and raw materials and a slower increase in domestic rents owing to a larger supply of low- and middle-income housing," the IMF said.

"The [Qatari] authorities agreed with the [IMF] staff that inflationary pressures are likely to ease in 2009, with international food and raw material prices projected to decline and domestic rents to stabilise… as investments come on stream, supply bottlenecks will also ease and inflation, which is expected to remain elevated in the near term, would decline gradually."

It said the Central Bank of Qatar intends to carefully calibrate its interest rate and liquidity instruments to ensure that inflation is reduced and that the growth of assets, credit, and deposits of the banking system is not choked off.

Forecasts by the IMF showed Qatar's gross domestic product would still gallop by nearly 29 per cent in real terms this year as new LNG production trains come on stream to offset a decline in oil prices and output.

In nominal terms, the country's GDP could grow by only 11 per cent compared with 42.3 per cent in 2008 mainly because of the sharp crude price decline.
Follow Emirates 24|7 on Google News.