Investors bullish on GCC stock markets' recovery in 2010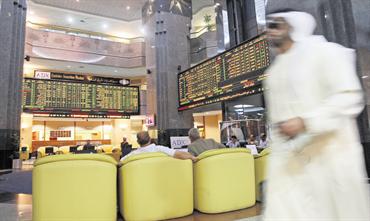 Investment community expects Abu Dhabi, Qatari and Saudi stock markets to recover this year despite GCC Investor Confidence Index dipping 2.4 points to 114.5 points in January, according to Shuaa Capital confidence survey.

At least 21 per cent of investors were bullish about the recovery of Abu Dhabi Securities Market, while 51 per cent were positive about Saudi Arabian stocks and 37 expected a run in Qatari stocks. However, uncertainty about other GCC markets outweighed positive sentiment, according to Oliver Schutzmann, Chief Communications Officer of Shuaa Capital and author of the Investor Sentiment Report.

"Following an improvement of the GCC Investor Confidence Index at the end of 2009, it decreased slightly by 2.4 points to 114.5 in January 2010. December's special investor sentiment report reflected the impact of the decision to repay the Nakheel Sukuk on time, resulting in a jump in the Index," he said.

However, the UAE index remained in the negative area at 96.1 due to uncertainty among investors. Saudi Arabia was the only gainer among GCC countries in the economic outlook index after it added 6.6 points to 142.4. There was further deterioration in sentiment towards Kuwait, which slipped further into sub-100 point territory, the threshold for positive and negative investor sentiment, as it fell from 95.8 points in December last year to 87.2 points in January.

Meanwhile, there was little change for Oman and Bahrain, as their respective Indices fell 1.8 and 0.4 points in January resulting in Indices of 109.9 and 97.1 points.

"Driving much of last month's GCC Index decline was primarily the bearish six month stock price outlook of participants for all GCC countries. The balance of respondents' figures for stock price outlook fell by 14.8 per cent for GCC stock markets," said Schutzmann.

The survey showed that investors' six month outlook for regional stocks was very mixed. Saudi Arabia is still expected to set the standards for the region with an on balance figure of 44 per cent. This is despite a 4.4 per cent drop in December. Closely following is the Doha Stock Market, which recorded 30 per cent on balance in January after dropping from 41.9 per cent in the previous month.

Meanwhile, the Abu Dhabi Stock Market, the Bahrain Stock Market, the Kuwait Stock Exchange and the Oman Stock Market all recorded relatively neutral figures for January 2010.

In negative outlook territory last month were the two Dubai markets – the Dubai Financial Market and the Nasdaq Dubai.

However, the survey revealed that investors were increasingly bearish on Western markets during January while GCC markets are seen to be much more attractive over the next six months.

"The FT-SE, Eurostoxx 50 and Dow Jones 30 all saw their on balance figures drop by over 30 per cent last month to -30 per cent, -40 per cent and -30 per cent respectively, indicating that they are seen as significantly overvalued. Comparatively, the Saudi Stock Exchange gained 3.4 per cent on last month, rising to 26 per cent on balance, while all other markets in the GCC, except the Kuwait and the Dubai Financial Market, at -12 per cent and - two per cent respectively, remained in positive territory," explained Schutzmann.

Also, investors' views on the current state of GCC economies have seen a slight improvement in January. The GCC as a whole gained 8.8 per cent as it moved from 3.2 per cent on balance at the end of December to 12 per cent in January. The primary driver of this result was Saudi Arabia which jumped 15 per cent, after it moved to 44 per cent.

TELECOM OUTLOOK BETTER

All sectors, apart from real estate, are expected to record increases in their profitability over the next six months according to the Shuaa Capital confidence survey.

Telecoms, Media & Technology (TMT) are still expected to be the most profitable, with 35 per cent on balance.

Pharmaceuticals saw a strong gain of 11.9 per cent in January as they moved to 28 per cent on balance. Also strongly positive were the transportation & logistics and utilities sectors, which were 26 per cent and 21 per cent on balance respectively.

Making significant progress in January were the banks and other financial institutions and consumer and retail sectors which rose 17.2 per cent and 19 per cent respectively.

Heavy industries moved into positive territory last month at seven per cent, while the real estate, construction and materials industry made up a very encouraging 20 per cent jump compared to December's survey, although still remaining in negative territory.

The most significant change in the six month outlook on commodities was towards gold which fell from December's high of 22.6 per cent to -12 per cent last month. Despite an 8.6 per cent fall, investors remained bullish on the oil price with an on balance of 14 per cent.

Meanwhile, all currencies lingered in the negative with on balance figures for the euro, sterling and US dollar reached -12 per cent, -16 per cent and -2 per cent respectively.
Keep up with the latest business news from the region with the Emirates Business 24|7 daily newsletter. To subscribe to the newsletter, please click here.
Follow Emirates 24|7 on Google News.