IPO activity in Mena states to remain calm in first half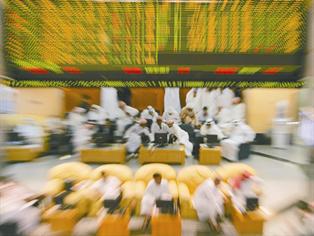 Initial public offering (IPO) activity in the Gulf and other Middle East and North Africa (Mena) countries remained strong in 2008 despite the global financial crisis but is expected to shrink in 2009, a Gulf investment bank said.

About $13.2 billion (Dh48bn) was raised through 53 IPOs in 10 countries in the six-nation Gulf Co-operation Council (GCC) and other Mena countries during 2008, the Kuwaiti-based Gulf Investment House (GIH) said.

The average oversubscription ratio was 14.9 per cent and the average amount raised was $248 million, GIH said in a study sent to Emirates Business.

Saudi Arabia dominated the IPO activity in Mena last year, while the UAE was the second in terms of funds raised through IPOs, it said.

The IPO market was slightly lower than in 2007, when there were 71 IPOs, raising $14.4bn, most of which were also in the GCC.

"In fact, the IPO market in Mena was one of the strongest in world, up until the end of the third quarter of 2008," the study said, referring to strong economic performance in the first three quarters because of high oil prices. It said six out of the largest 20 IPOs in the world were conducted in Mena, while 40 out of 53 companies had been listed in their respective bourses.

The largest IPO in 2008 was Alinma Bank from Saudi Arabia raising $2.8bn with an oversubscription ratio of 6.6x, according to GIH.

On the other hand, there were 71 IPOs in 2007 raising $14.4bn in 11 countries, with an average size of offering of $203.4m and an average oversubscription ratio of 15.1x. In 2007, the largest IPO was DP World raising $5bn with an oversubscription ratio of 15.0x.

"It is important to note that most of the amount raised was from the GCC with around $11.7bn in 2008," the report said.

As for 2009, companies in the region are eagerly planning to enter the IPO market and it is estimated that as much as 48 companies in the GCC had already assigned an IPO manger for their listings, while another 78 GCC companies plan to have their IPO by 2011, GIH said.

"However, the impact of the global crisis was apparent in Mena, as many companies had already postponed their IPOs indefinitely citing market conditions as a direct cause," it said.

"For example, it is estimated that 80 Saudi companies had delayed their IPOs, which targeted to raise $19bn in capital. In fact, there were only three IPOs that closed the subscription window during the 4Q2008 out of 53 deals for the whole year, raising $22.4m compared to the 4Q2007 of 17 IPOs raising $7.5bn. The low level of IPO activities is expected to remain to 2009."

The study attributed the expected lower IPO activity in 2009 to the festering global economic crisis and the sharp fall in oil prices, which it said would largely depress Gulf revenues and lead to lower public spending.

"Oil prices are not expected to be high in 2009… as a consequence, oil producing countries, especially in the GCC, will experience a fall in revenues, which might slow their spending capacities. Lower growth in public spending would push down growth in domestic business activities, as public spending in the GCC plays a major role in the economy."

According to GIH, investment firms were the hardest hit by this financial crisis and the current credit crunch had also reached Mena.

It said many companies in the region are not able to find an alternative resource to finance their foreign debt, as foreign banks lack liquidity. Besides, local banks are not able to absorb the sudden increase in demand for corporate lending, not because of the shortage in liquidity, but because of the unwillingness to lend at the turbulent market condition.

"Currently, the financial services sector in the region does not have enough liquidity to enter the capital market, let alone an IPO market. Expectations play a vital role in the IPO market. Companies are willing to go public when market conditions are stable, if not booming, and companies tend to shy away with the first sight of market trouble," GIH said.

"Currently, the sentiment in the market is negative, and most of the newly listed companies, which increased in price, dropped below their subscription price.

"Therefore, we expect the IPO market in Mena to be relatively calm in the first half of the year 2009 and later increasing gradually in the second half of the year. At present, there is only one company, National Air Services from Saudi Arabia, that plans to raise more than $599m in the first half of this year, but there is no specific date of the offering."

Its figures for 2008 showed the largest IPO market in Mena was in Saudi Arabia, which recorded 13 deals raising more than $9.7bn compared to $4.8bn raised by 26 IPOs in 2007.

The UAE raised the second largest capital in 2008 through its three stock markets and eight IPOs amounting to around $1.3bn with an average oversubscription of 56.5x per IPO, of which all were raised in Dubai bourses except for two deals in Abu Dhabi, raising only $61.5m.

The rest was raised from Kuwait, Qatar, and Oman totalling $678.9m of which $511.1m was raised by Gulf International Services in Qatar.

Even though Jordan had the highest number of IPOs in Mena last year, these deals only totalled $137.7m with average oversubscription ratio of 3.9x.

"In fact, the smallest 10 IPOs were in Jordan totaling only $56.5m, and the average amount raised by an IPO in Jordan was $9.2m."

Morocco and Syria had nine IPOs in 2008, raising $594.34m, of which Syria had only four IPOs raising $66.8m. Egypt and Tunisia had four IPOs raising $738.3 million, of which almost 79 per cent was raised in Egypt.

The financial sector in Mena witnessed the highest capital increase with 16 deals raising $3.3bn, averaging $206.3m per deal. According to the study, only five out of 15 sectors raised more than a billion dollar.
Follow Emirates 24|7 on Google News.