Japan swings to record current account deficit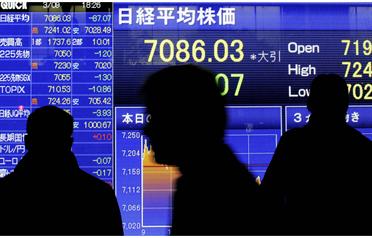 Japan
's current account balance swung to its largest deficit on record in January, with the income surplus tumbling about a third from a year earlier, adding to pressure on an already falling yen.
The first deficit in 13 years came as the global financial crisis dried up demand for Japanese exports, which combined with a strong yen at the time to shrink profits from overseas investments, including subsidiaries of major manufacturers.
Gloom over the global economy hurt Tokyo stock market, with the Nikkei average hitting a 26-year closing low.
"Supply-demand dynamics have changed, and the current account balance indicates further yen weakness," said Kimihiko Tomita, head of foreign exchange at State Street Bank & Trust Co.
"This is big news, because we aren't used to trading the yen in an environment of current account deficits."
The yen has slipped 11 per cent since a 13-year peak against the dollar in January as Japan's economy grapples with diving exports and its worst recession of the postwar era. The current account news helped the dollar rise half a yen to 98.39 yen.
In a sign of deepening pain from the global credit crisis, corporate bankruptcies rose in February, with the type of firms going under broadening to the financial, wholesale and service sectors, a survey showed.
Worries about the fate of General Motors and waning hopes for further stimulus from China pushed the Nikkei average down 1.2 per cent on Monday to a 26-year closing low.
The contraction in Japan's main export markets is pushing corporate giants such as Toyota Motor and Sony into the red, prompting job and production cuts and setting the economy on course for its longest slump in modern times.
"We expect a further deterioration in the current account balance," said Akira Maekawa, a senior economist at UBS.
"We've seen the declines in exports, and now we see the income balance declining because the global financial crisis is cutting earnings on overseas investments. This is a bad development for an export-oriented economy."
SENTIMENT HOLDS UP
Japan had a current account deficit of 172.8 billion yen ($1.8 billion) in January, its first time in the red since January 1996 and much bigger than a forecast of 15.3 billion yen.
The income surplus slipped 31.5 per cent from a year earlier due to lower interest rates and dividend payments from overseas. A stronger yen in January also reduced the value of income from overseas investments, a Finance Ministry official said.
Only 10 months ago, Japan enjoyed a record monthly surplus of 1.96 trillion yen thanks to large dividend and interest payments.
Other data on Monday showed bank lending rose in February from a year earlier while commercial paper issuance fell, although by less than in January, reflecting a slight easing in gummed up financial markets that have forced companies to borrow from banks.
While there may be some signs of easing tension in the country's credit markets, declining export and income revenues will weigh on the economy for months to come, analysts said.
With share prices faltering and the nation's key export industries suffering from an unprecedented downturn due to the global slump, the government and Bank of Japan are under pressure to boost domestic consumption and spur corporate lending.
Corporate bankruptcies jumped 10.3 per cent in February from a year earlier, the ninth straight month of rises, with many struggling from funding strains and weak sales, according to research firm Tokyo Shoko Research.
Japanese lender SFCG Co Ltd was among the seven listed firms that went under in February, the biggest bankruptcy filing this year in debt terms.
One glimmer of hope was an improvement in Japan's service sector sentiment in February, although it remained near record lows, on support from tax breaks on environment-friendly cars and recent falls in raw material prices. 
Follow Emirates 24|7 on Google News.