Liquidity, interest rates key signs of equity turnaround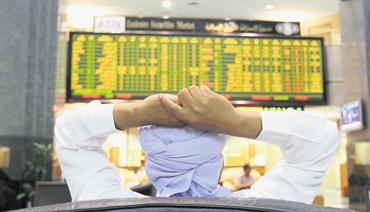 Liquidity, interest rates, corporate results, global cues, public and private investment, domestic consumption and technical movements have been cited as the most prominent factors that can signal a recovery in the country's stock markets, analysts said.

Sanyalaksna Manibhandu, Head of Research, Emaar Saudi Financial Services, lists five things that signal recovery – bank lending, interest rates, forthcoming first-quarter numbers, global market cues and technical movements.

"Banks were lending heavily in 2008 and we saw the investment flowing into the stock markets. Once banks put the brakes on lending, stock markets started to reel under a severe liquidity crunch. As a result, trading turned weak," Manibhandu said.

P Krishna Murthy, Chief Executive of Dubai International Securities, focuses on liquidity, public expenditure, encouraging private investment in diversified areas, encouraging local consumption and expenditure and regulating interest rates.

Interest rates are a key factor to determine the cost of funds for investment houses and investors. "Regulating interest rates in line with world markets and containing inflation should be a focus for any emerging market. This is more appropriate for GCC countries, especially the UAE. This will ensure stability and economic growth," Murthy said.

"Public investment and expenditure must continue to pep up the economy of any nation. There must not be any reduction or downsizing of the same. These are considered to yield long-term economic benefits to the nation as well as attract private investments.

"Private investments must be encouraged to complement government investments, both within and from abroad (like FDI), with specific focus on SME segments for sustained growth and generation of employment. Investments in diversified field of activities must be ensured to hedge future shocks or risks," Murthy said.

Liquidity plays an important role in stock markets and it would affect not only pricing but also market anomalies.

"Liquidity is the need of the hour and measures should be taken to ensure enough of it is created in the economy. Appropriate monetary and fiscal tools can be put to use for providing market with required liquidity. Encouraging and regulating money market operations would be a sign in right direction for long-term financial stability in the economy. Capitalisation of financial institutions and banks would be essential to steer the economy to stability," Murthy said.

Local consumption levels need to be maintained and increased through various measures as large-scale loss of employment would mean an adverse impact to demography and therefore lower consumption, he said.

"Instead of sacking employees, organisations can go for reduction of salaries. Every organisation should retain all the employees by reducing their salary levels. There should be some sort of policy on this. Otherwise, reduced economic activity will take its toll on the market," he said.

"Policies such as allowing companies to reduce the number of working days and pay wages accordingly, in the wake slowing economic activity, can bring down the financial burden on the corporates, and at the same time allow them to retain headcounts. This in turn will prevent a sudden drop in domestic consumption," Murthy said.

Elaborating on how technical analysis can help investors to keep track of markets, Shiv Prakash, equity analyst at Mac Capital, said: "Predicting bottoms in the bear markets is a very tough job, but by the use of technical analysis one can do so. Using correct indicators, identifying divergences and price patterns can fetch us rewarding returns in the long term by entering near the bottom."

According to Prakash, the technical indicators of a bottom in a bear market include the Relative Strength Index, Head and Shoulder pattern, 'W' formation, Rounding, and Triple Bottom.
Follow Emirates 24|7 on Google News.