Local markets end the week flat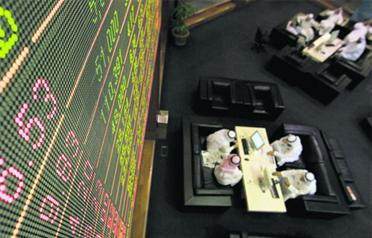 Strong selling pressures in the real estate sector have led to a strong down trend in Dubai Financial Market throughout the session. The DFM index lost 42.37 points, 2.39 per cent, and closed at 1,728.95 points.

The index lost yesterday most of the gains it achieved at the beginning of the week and ended the week flat. However, the index closed above its critical support level of 1,720 points.

The turnover also declined by around 40 per cent compared to the previous session as 141.9mn shares changed hands at a total value of Dh252.8mn. Emaar, Union Properties, Deyaar and Arabtech stocks dominated the session and suffered strong selling pressures, which led to strong loses in the DFM index of more than four per cent during intraday trading. Emaar attracted around 30 per cent of the turnover and the stock lost 7.27 per cent to end the session at Dh2.42.

However, the banking sector advanced by the end of the session and could narrow losses in the index. Emirates NBD advanced 3.6 per cent to Dh3.45 and CBD added 2.5 per cent to close at Dh4.10.

"Profit taking was the main trend in the DFM and there was a special focus on leading stocks that reflected negatively on the index. However, the index and prices of leading stocks are still over their support levels, despite they lost most of their gains during the first session of the week," said Hosam Al Husseini, head of brokerage at Emaar Financial Services.

He cited two main behaviours in the market yesterday, including the decline in the turnover to normal levels after the turnover tripled during the first two sessions of the week. "Movements by individual investors dominated trading in the market, as institutional investors were nearly absent. This trend reflected the speculative nature in the market.

"The week ended nearly flat and this is giving neutral indications as most of the stocks closed well over their critical support levels."

In the capital, Abu Dhabi Securities Exchange lost 13.75 points, or 0.54 per cent, and closed at 2,527.41. The turnover remained at low levels with 69.7mn shares changed hands at a value of Dh194.3mn. Active stocks including Sorouh, Aldar and Dana continued to dominate trading. Sorouh added 4.85 per cent to close at Dh4.11.

"There was active trading on Sorouh and Aldar stocks. Foreign and local institutions are focusing on ADX, especially Sorouh stock. We noticed institutional investments shifting from the DFM to the ADX during the last two sessions. The is also low volatility in the ADX as penny stocks started to attract strong investments, a trend that reflects stability in the market on the short-term," said Al Husseini.
Follow Emirates 24|7 on Google News.