Low volumes to leave both the bourses volatile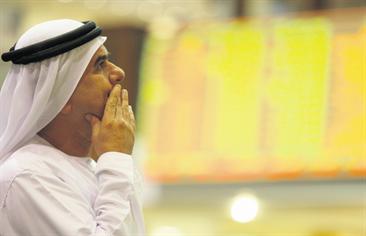 UAE stock markets will remain volatile this week, with low volumes likely to lead to wild fluctuations in prices.

Both UAE exchanges suffered their worst weekly performance of 2009 last week, with the Dubai Financial Market falling 11 per cent, while the Abu Dhabi Securities Exchange fared slightly better, fell 10.4 per cent.

A dearth of liquidity will continue to plague the market, with both markets routinely failing to claim combined trading worth more than Dh500 million.

Until late October, turnover rarely went below the Dh1 billion mark, but a dearth of buyers is leaving stocks vulnerable to declines.

"Abu Dhabi real estate is under tremendous pressure, with both Aldar Properties and Sorouh Real Estate tumbling since the turn of the year," said Wadah Al Taha, a financial analyst.

"Investors wanting to buy should look for stocks outside the real estate and banking sectors, with transport and telecoms likely to outperform the market."

Analysts say the markets may move up this week, but a sustained rebound is highly improbable, so any advance will remain in the context of a wider downtrend.

"The market can only recover when the liquidity stresses are eased and I don't see this moving significantly until the second half of this year, maybe not until the fourth quarter," said Taha.

Meanwhile, the market has reacted negatively to last week's borrowing initiative from Emaar, which saw the developer announce it was seeking Dh15bn in funding.

"This reflects the dearth of liquidity and also shows there's zero chance of Emaar paying a cash dividend."
Foreign investors net sellers

Foreign investors remained net sellers on the Dubai Financial Market for the week ended January 18 with purchases amounting to Dh580.8 million against sales of Dh688.4m.

The value of shares bought by foreign investors, or non-UAE nationals, during the week comprised 42.5 per cent of the total value of stocks traded during the period. Net foreign investment on the market reached Dh107.5m during the period as aggregate sell.

The value of stocks bought by institutional investors was Dh213.8m comprising 15.6 per cent of the total value of stocks traded and the value of stocks sold reached Dh477.7m which constituted 35 per cent of the total value of stocks traded.

Net institutional investment on the market reached Dh263.9m during the period as aggregate sell.
Follow Emirates 24|7 on Google News.