Market stages late comeback after sustained losses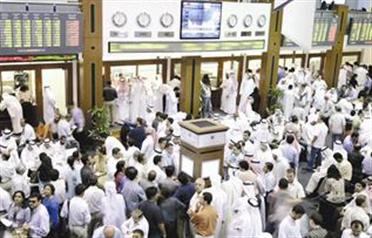 The Dubai bourse staged a minor late recovery to end its seven session losing streak, but Abu Dhabi retreated further into the red.

Improving volumes helped the Dubai Financial Market climb 0.73 per cent to 1,472 points on a quiet day's trading, with the index moving in a 3.7 per cent range.

The Abu Dhabi Securities Exchange was not so lucky and it fell 1.55 per cent to 2,136 points following a further slump in real estate and telecom stocks.

"There was no clear motive for Dubai's rebound," said Wadah al-Taha, a financial analyst.

"The declines of the previous few sessions were an over reaction, while volatility is continuing, based on hesitation from investors."

Market heavyweight etisalat fell 2.12 per cent to Dh9.68, while Aldar Properties dropped another 7.6 per cent to Dh2.63, which means the latter has lost more than half its value in a fortnight. Sorouh Real Estate also declined.

Meanwhile, Dubai's blue chips enjoyed a mixed day, with Emaar Properties recovering from Wednesday's four-and-a-half year low to rise 1.1 per cent to Dh1.87, while Dubai Islamic also proved resilient, jumping 5.3 per cent to Dh1.59.

Emirates NBD, the UAE's largest bank by assets, added 3.7 per cent, but DFM Company and du struggled, with this pair both shedding more than two per cent. Combined turnover was up by more than a third to Dh434 million, with the ADX providing the bulk of this improvement.
Follow Emirates 24|7 on Google News.