Markets to move in positive range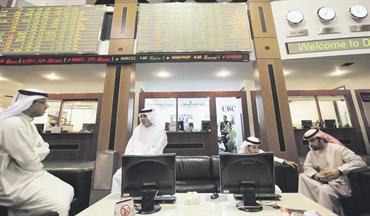 After witnessing an encouraging trading in the first week of this year, the UAE bourses are likely to be range bound to the positive side this week as the latest confirmation by Aabar investment in Arabtec is likely to work as a positive trigger that can result in a rally.

Now, all eyes are on Aabar Investments and Arabtec stocks as the former has decided to take 70 per cent state in the latter.

Aabar is to acquire Arabtec stakes through convertible bonds in a $1.7bn (Dh6.23bn) deal, according to a statement issued by the Abu Dhabi-based investment company. The proposed deal would provide both cash and potential new business for the Dubai-based property major. However, the chances of rally in both the stocks are not bright, say experts.

Arabtec shares already rose more than six per cent and Aabar shares gained more than five per cent on the last session of the previous week. Arabtec shares closed at Dh2.89 on Thursday, while Aabar stock ended the week at Dh2.47 adding to earlier gains.

Taimur Saadat, Head of Technical Analysis at Arab Media Capital Markets Resource Centre, told Emirates Business: "Arabtec shares were highly volatile during the previous week because of news spread in the market that Aabar would invest in the company. Arabtec stock already rose significantly and this will reduce the chances of further rise in the scrip. Because insiders knew that the deal was going to be a reality and they traded heavily in the stock. Coming to Aabar shares, there may not be significant boost to the stock because generally shares of buying company always go down."

This apart, Aabar deal would give a welcome cash injection to Arabtec and could help provide new business for it in Abu Dhabi too, said experts.

Aabar's board has resolved to make an offer to Arabtec to acquire 70 per cent of the share capital of Arabtec by way of mandatory convertible bond to be issued by Arabtec Holding to Aabar Investments at a conversion price of Dh2.3 ($0.626) per share," Aabar said in a statement.

Considering the closing price of Arabtec, which ended at Dh2.89, the proposed offer price is a 20.4 per cent discount to the current price. Credit Suisse in its latest report forecast a target price of Dh3.33 for Arabtec shares.

"First of all, we are deeply disappointed with the level of disclosures regarding Aabar and Arabtec deal. Previous week, both the companies denied such a deal. And now it's a reality. This will result in high volatility in the market," said Wadah Al Taha, senior financial analyst. With the foreign investors and institutions coming back to trading, analyst forecast positive trading on Dubai Financial Market (DFM) and Abu Dhabi Securities Exchange (ADX).

"There's a possibility of rally at the beginning of the session motivating profit-taking later on. We can see normal uptrend during the mid-week. We have to be realistic as current level of prices is in the acceptable range. The risk appetite is high on both the markets. The four among the top-five stocks during the last two months, belonged to real estate sector. Such concentration leads to a possible correction shortly," said Al Taha.

However, market experts hold cautious outlook for this week, if adverse news or misinterpretation of media reports hit the market sentiment.

"The market situation is likely to be range bound. If adverse rumours hit the market sentiment, then index will slip into red and trading becomes very volatile. Otherwise, the market may move in a narrow range until annual earning results come out," said Saadat.

The DFM general index adding 33.56 points closed the week at 1837.14 points, a net rise of 1.86 per cent over the previous week's close of 1803.58 points. ADX market closed the week on positive note as its general index closed higher 1.16 per cent at 2775.50 points registering a net gain of 31.89 points from 2743.61 points a week before.

"The DFM general index picked up from 1800 supports with smart buying seen in Arabtec and Emaar from lower supports made market close higher by almost one percent at 1837. Markets are still in the range and are trading above the important support levels with trend line resistance coming near 1900 and the support exists at 1800. Intraday, if the market remains above the pivot levels of 1827, we can see the continuation of the bullish move until the next resistance levels of 1850/1864. Break below the pivot can find support levels of 1814/1791," said Shiv Prakash, senior technical analyst at MAC Capital.

"The next lower support level for the index comes at 1730, a 50 per cent retracement level of the rise from 1460 to the recent highs of 2000 and should remain intact, while immediate resistance levels for the market barometer come at 2000-2050, where if any close seen above these levels we are heading higher towards 2400 in the coming sessions," said Shiv Prakash.

The first session of new year took off encouragingly as the DFM general index soared 3.44 per cent.

"The monthly charts show a clear hammer formation, which indicates a good reversal in the market after a great volatile session witnessed in the past. MACD is turning positive with RSI moving up from 30's. Emaar, Arabtec and DFM are the stocks which can gain further momentum and can lift the index towards the said higher resistance levels," said Prakash.

During the previous week, foreign investors purchase Dh1.348bn worth of shares comprising 38.9 per cent of the total value of stocks traded on DFM and sold Dh1.347 bn. Value of shares bought by institutional investors stood at Dh499m during last week, while value of shares sold reached Dh443.8m. "Foreign investors are coming back to trading. Some UK-based funds invested more than $200m in December alone and will invest in real estate sector. This is a good sign, but market has to be stable. Investors are coming in just for short-term investments only. They may exit on quick profits. We can see long-term investment in 3-4 months as economy starts showing stability," Saadat said.
Keep up with the latest business news from the region with the Emirates Business 24|7 daily newsletter. To subscribe to the newsletter, please click here.
Follow Emirates 24|7 on Google News.