Nasdaq Dubai vows to bring back trust to market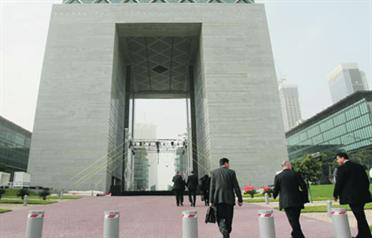 Nasdaq Dubai offers a better option on listing during this time of crisis, a senior official from the exchange said.
The newly re-branded bourse, says Sara Kamal, Business Development Manager at Nasdaq Dubai, can facilitate trust to come back into the market, thanks to the exchange's minimum 25 per cent floating requirement, book-building scheme and clearing mechanisms.
"In troubled times such as these, the exchange can open the door of opportunity because you can decide to go out to the market with 25 per cent now, and later when the market picks up and you see valuation go up, you can do the second phase," she said.
Kamal said the bourse allows companies to book-build, which tends to attract long-term investors.
In contrast to Abu Dhabi bourses, which are priced at par value and usually jump in value when listed, Nasdaq Dubai uses a book-building process that prices the issue by matching supply with demand for new shares.
"This allows investors to be a part in valuing the company," she said. "When you have investor valuing the company from the very beginning you tend to get more long-term investors."
Kamal said together with Dubai Financial Services Authority (DFSA), the bourse makes sure the board and senior management do their job properly without being affected or pressured by the shareholders.
The International Monetary Fund in September last year commended DFSA for bringing its structures, procedures and practices in line with international standards.
Last year, it had fined GFS Investments (Middle East) $40,000 (Dh146,920) and suspended its operations for "mis-selling", asked to pay $502,000 to investors who suffered losses because of its "misconduct" and banned its employees from operating in the Dubai International Financial Centre (DIFC) for five years.
It has also fined Shuaa Capital a record $950,000  for alleged market manipulation. "We have mandate companies to disclose more vital information on a very timely manner. Transparency is a key point because investors need this to make informed decisions," she said.
In addition, Nasdaq Dubai acts as central counter party to every trade to ensure that funds and shares are delivered. "A lot of turmoil that has been going on in the last couple of years is due to bilateral trading, where there has been a lack of clearing," Kamal said. "If shares aren't delivered, we as a clearing house will step in and make sure the shares are delivered to buyers. This takes away the counter party risk."
Despite these efforts, trading in the bourse remains low. Analysts attribute this to a weak IPO market, the financial turmoil and the exchange's being "young".
On the upside, Kuwait-based Esdarat Holding Company is planning to list on Nasdaq Dubai in the second half of 2009 to fund real estate development projects worth $2.8bn.
Follow Emirates 24|7 on Google News.