New tick size at DFM fuels debate on volumes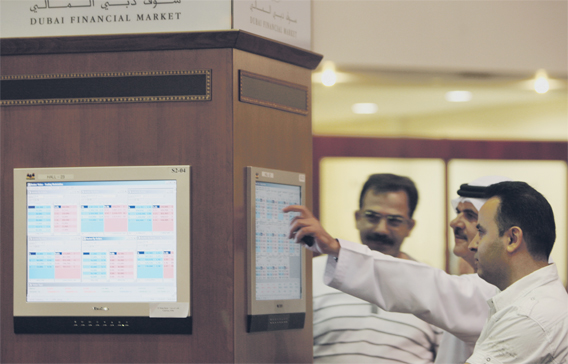 The modified tick-size system, to be effective from March 11, is expected to give more leverage to investors who can trade on fraction of a fils margins and boost volume in penny stocks.
The Dubai Financial Market (DFM) on Thursday announced the modification of the tick size to allow buy and sell orders up to three decimal fractions for securities with a market price below Dh10 and up to the second decimal fractions for securities with a market price above Dh10.
However, the move evoked mixed responses from market players on whether it would bring in liquidity and volumes battered by uncertainty and lack of positive triggers.
"The new tick size is actually beneficial to stocks such as Tabreed," Shiv Prakash, Senior Technical Analyst at MAC Capital, told Emirates Business.
"Trading volumes on the bourse will increase as the new modified tick-size system will attract more liquidity. Price fluctuations will be more and this will help day traders scalp faster as it enables them to in and out many times in one session."
Scalp trading means very short-term deals in single session. By entering and exiting a trade within a minute or two, scalpers tend to make several trades a day, accruing a number of small margins into a respectable profit.
To take profit on thin margins, volumes need to be larger. The question arises here that whether investors are in a position to build large volumes considering the high commission rate, lack of financing and more importantly lack of clarity in the market. Hassan El Salah, Deputy Head of Institutional Equities at Al Ramz Securities, said: "In the current market environment, the modified tick-size benefits nobody, neither institutions nor retail investors.
"Investors are not trading due to lack of clarity regarding the Dubai World's restructuring plan, the pending Aabar and Arabtec deal, and the weak fundamentals related to both the real estate and banking sector. All of these factors create a lack of confidence. Nasdaq Dubai already has three-decimal trading system and despite such system in use, volumes are depressed. I think the modified tick size is a step towards aligning DFM and Nasdaq Dubai trading platforms."
Wadah Al Taha, senior financial analyst, said: "Considering the adverse conditions in the market, I doubt whether it will boost volumes. Market players are under pressure.
"Key factors such as lack of transparency and lack of disclosures are behind the present pressure in the market. The market sentiment reflects fear among big investors too. I doubt whether small investors may take a look at this in a different way. I think it will not move significant and materialistic rise in volumes." As per the new modification, tick size for securities below Dh10 will be changed from Dh0.01 to Dh0.001, while tick size for securities above Dh10 will be amended from Dh0.05 to Dh0.01. This modification will allow the trading of securities below Dh10 with the fraction of the one fils, and trading of securities above Dh10 with one fil and not five fils.
Of the 27 traded stocks on DFM on Thursday, 16 scrips were below Dh1, five above Dh1 and six stocks were above Dh2. Analysts suggest that there should be separate category for penny stocks.
"It should be applied for penny stocks trading below Dh1. I believe that it's reasonable if DFM applies this to penny stocks. Above Dh1, the one fil price fluctuation is reasonable. I suggest that there should be three categories comprising below Dh1, Dh1-10 and above Dh10. If this helps improve trading volumes, I think, it will reduce the cost of trading. We need active role of funds in a big way. The holdings of funds are less than three per cent of the total market capitalisation. The current role of funds is very modest," said Al Taha.
DFM has completed the preparation and testing process to implement the new system.
Keep up with the latest business news from the region with the Emirates Business 24|7 daily newsletter. To subscribe to the newsletter, please click here.
Follow Emirates 24|7 on Google News.