Oil holds above $47 per barrel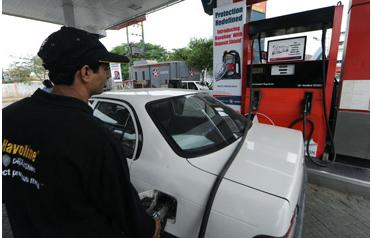 Opec's largest member, Saudi Arabia, notified Asian customers of largely steady cuts in supplies for April from March, traders said on Tuesday, a day after a Saudi-owned newspaper reported that the world's top exporter wanted stricter compliance with existing curbs before considering more cuts.
US light crude for April delivery rose 25 cents a barrel to $47.32 by 0228 GMT, having gained more than 3 per cent on Monday on Opec hints of further cuts and after a naval incident between the United States and China.
London Brent crude gained 31 cents to $44.44.
"A lot of people were expecting Saudi Arabia to deepen the cuts ahead of the meeting. It looks like demand is going to fall further and Opec will have to cut again," said Tony Nunan, risk management manager at Tokyo-based Mitsubishi Corp.
Saudi Arabia planned to lower supplies to at least one European oil company in April, a trading source said on Monday.
Opec will meet on Sunday to discuss more curbs to add to its current 4.2 million barrels per day (bpd) cuts agreed since September as oil prices have lost $100 from record highs over $147 a barrel hit in July as the economic crisis crimps demand.
Opec Secretary-General Abdullah al-Badri said on Monday the 12-member producer group would consider reducing output again at the meeting. Opec will slash its 2009 demand forecast by 1 million barrels per day (bpd) in a monthly report due on Friday, Badri also said.
Industry group the American Petroleum Institute will release at 2030 GMT its weekly US stocks data, which analysts forecast would show a bullish 400,000-barrel decline in crude stocks s as inventories fall further from February's record highs.
Last week, crude stocks fell by an unexpected 700,000 barrels.
Analysts polled also expected an 800,000-barrel fall in gasoline inventories and a 200,000-barrel rise in distillates stocks.
The US Energy Information Administration will release its weekly data on Wednesday.
Prices jumped early on Monday after the US State Department said five Chinese ships, including a naval vessel, harassed an unarmed US Navy ocean surveillance ship in international waters in the South China Sea on Sunday.
"That sort of (price) reaction is the political risk premium rearing its ugly head after being pushed under the rug for the last month or so," said Jonathan Kornafel, Asia director of US-based Hudson Capital Energy. 
Follow Emirates 24|7 on Google News.
Oil held above $47 (Dh173) a barrel on Tuesday, as dealers mulled the possibility of deeper Opec output cuts at a meeting this weekend and ahead of weekly US stocks data expected to show another fall in crude inventories.