Oil slips below $36 as demand outlook worsens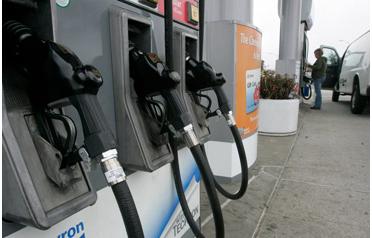 Global economic downturn is taking its toll on oil consumption, and supply still appears to be outstripping demand in many parts of the world, despite production cuts by members of the Organisation of the Petroleum Exporting Countries.
Oil prices continued to weaken despite a deal in the US Congress on Wednesday on $789 billion in new spending and tax cuts.
US light crude for March delivery was down 34 cents at $35.60 at 0930 GMT.
London Brent crude was up 18 cents at $44.46, stretching its premium over US oil to near record levels of above $9 hit last month.
Traders said the short-term direction of the market was being dominated by movements in stock markets, which opened lower in Europe on Thursday, and the dollar, which rose against a basket of major currencies.
"Overall the market appears to be slipping," said a dealer at a large London brokerage. "Oil demand is falling and a lot of attention is being paid to macro-economic data."
US JOBLESS
Traders awaited US weekly jobless claims and January retail sales data due at 1330 GMT on Thursday, which will give a clearer indication of how the US economy is faring.
Oil has tumbled around 10 percent this week, having fallen four sessions in a row since last Friday, on demand worries and fears the US bank rescue plan would not go far enough to revive the ailing financial sector.
Oil prices took a battering on Wednesday after the US Energy Information Administration said domestic crude stocks had increased 4.7 million barrels to 350.8 million in the week to February 6, against a forecast for a rise of 3.1 million.
The latest increase in US crude stocks comes on the heels of a combined rise of more than 13 million barrels in the prior two weeks, and crude inventories are now moving significantly above their five-year range.
Oil's losses were further exacerbated by a separate report from the International Energy Agency forecasting global demand to contract by nearly a million barrels per day (bpd) – the most since 1982 – to 84.7 million bpd in 2009.
Underlining the damage caused by the global financial crisis, data showed global trade activity in goods and commodities had tumbled.
The March Brent ICE futures contract expires on Thursday and traders said they expected the premium for Brent over US crude futures, also known as WTI, to stretch further, reflecting very high stock levels at Cushing, the delivery point for the US futures contract.
"We are probably going to see WTI maintain or worsen its discount to Brent," said Harry Tchilinguirian, analyst at BNP Paribas in London. 
Follow Emirates 24|7 on Google News.
Oil slipped further below $36 (Dh132.48) a barrel on Thursday as worries over the health of the global economy and forecasts for a hefty fall in global energy demand weighed on sentiment.