Prices of metals expected to rise in 2010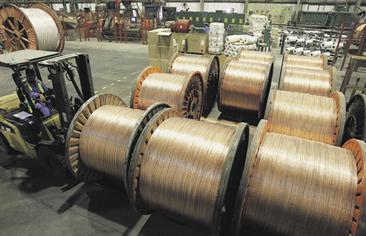 Copper may advance to $4 a pound in the March to May period, a gain of almost 20 per cent, as supply falls short of demand, Harbor Intelligence said in a report.

Demand will outpace supply by 200,000 metric tonnes in 2010, compared with 80,000 tonnes in 2009, the Laredo, Texas-based researcher said.

Copper rose to the highest price last week in almost 16 months on concern that a miners' strike may disrupt output in Chile, the world's biggest producer.

Workers at state-owed Codelco's Chuquicamata copper mine, the world's second-largest, plan to strike on January 4, union official Miguel Lopez said yesterday.

Contract talks resumed yesterday. The metal is headed for the biggest annual gain on record as demand climbed while supplies remained tight.

"Copper has the best outlook for next year," said Eliane Tanner, a Credit Suisse Group AG analyst in Zurich. "It is suffering from supply-side constraints."

Copper futures for March delivery advanced 2.45 cents, or 0.7 per cent, to $3.3695 a pound at 11.03 a.m. on the New York Mercantile Exchange's Comex unit.

Earlier, the most-active contract touched $3.379, the highest price since September 2, 2008.

Workers at Chuquicamata have one day left in their current contract, union official Jamie Graz said. An announcement from the renewed talks was to be made later, he said.

Copper has more than doubled this year. Expectations of revived global economic growth helped lift prices along with a decline in the dollar. The metal was also boosted by record first-half imports into China, the worldís largest consumer.

"Next year, we can expect copper to move higher," said Matthew Zeman, a LaSalle Futures Group trader in Chicago. "The global economic picture is looking up, and people are optimistic about the prospects for demand," he said.

The price may reach $3.50 in the "next couple of weeks", Zeman said.

On the London Metal Exchange, copper for three-month delivery rose $78, or 1.1 per cent, to $7,408 a metric ton ($3.36 a pound). Among other metals for three-month delivery, aluminum, zinc, lead and tin prices rose. Nickel fell.

Commodity prices rallied in 2009 on keen demand and signs of global economic recovery, with oil soaring and gold striking record levels, while copper and sugar surged. Many raw materials also rose in thin trade ahead of the New Year holiday weekend, with investors winding down for celebrations to usher in 2010.

"2009 has been a rollercoaster ride for most commodity markets, with copper, sugar and New York crude performing especially well," said VTB Capital commodities analyst Andrey Kryuchenkov.

"Refined copper and raw sugar were certainly the outstanding gainers as both more than doubled from lows at the start of the year."

He added: "China's unprecedented financial stimulus had certainly benefited raw materials linked to the expanding infrastructure and industrial growth.

"Demand [from leading industrialised economies] has yet to show significant and sustained signs of an economy recovery. However, end-of-year data, especially from the United States, was fairly encouraging."

Back in 2008, crude oil and base metals had forged historic peaks on supply woes, before tumbling as the global financial crisis and recession sparked demand worries across the world.

Oil prices are also expected to remain higher in 2010. The worldwide economic downturn had slammed demand for energy and sent oil prices plunging to around $33 towards the end of 2008.

"So much then for 2009, a year that the oil market spent mainly in a recovery mode," said Barclays Capital analyst Paul Horsnell.

"It produced a [New York oil] average of about $62 per barrel, encompassing a low of $33 and a high of $82, with prices finishing the year close to the highs after a steady 10-month climb."

However, prices still remain far below the record highs above $147 that were struck in July 2008 on fears of supply disruptions.

In the case of gold, the prices will show a mixed trend. Gold prices sparkled last year, scoring a record peak of $1,226.56 per ounce at the start of December, before tailing off as many traders cashed in gains.

The glamorous metal has smashed records on the back of inflationary fears and increasing moves by central banks to diversify assets away from the dollar, which weakened against the European single currency.

The weak level of the greenback made dollar-priced commodities cheaper for buyers using stronger currencies – which tends to stimulate demand.

Most other base metals also are expected to show an uptrend. They leapt higher on better-than-expected US data and thin market conditions. Three-month aluminium eased to $2,245 a tonne from $2,249.

Three-month lead gained to $2,440 a tonne from $2,346. Three-month tin increased to $16,875 a tonne from $16,100. Three-month zinc firmed to $2,575 a tonne from $2,525. Three-month nickel jumped to $18,848 a tonne from $18,721.

These upward trends are expected to continue in the new year.
Keep up with the latest business news from the region with the Emirates Business 24|7 daily newsletter. To subscribe to the newsletter, please click here.
Follow Emirates 24|7 on Google News.