Producers believe low agri prices will boost demand for fertilisers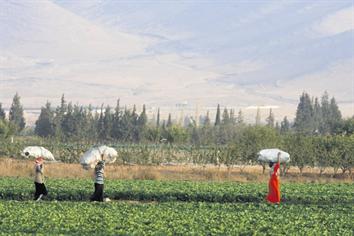 The fertiliser industry in the region is optimistic that demand will not be affected by falling agricultural prices.

However, cautious optimism still pervades the market and the industry in the UAE and the Middle East is opting to wait and watch before going ahead with expansion projects.

After a 200-per cent increase in fertiliser prices in 2007, which dampened demand, companies expect demand to increase now due to reduced prices and new agricultural investments by Gulf countries.

Leading fertiliser producers in the region said they were monitoring the situation carefully because falling agricultural prices may affect fertiliser demand in major countries such as India and Pakistan. The tight credit situation and fluctuating fertiliser and food prices are prompting farmers to postpone their investment plans in farm inputs.

Dr Thaha Dolami, Manager of Union Chemicals, a UAE-based fertiliser producer, said: "We expect demand for fertilisers to go up this year because agriculture is a basic activity in many countries, including Gulf states. The prices of fertilisers came down last year compared to its record levels in 2007, which were caused by high oil and commodity prices."

He said the company is considering expanding production capacity in view of an expected increase in demand from the main consuming countries. According to Taha, demand for fertiliser will increase between 30 and 50 per cent this year. Major fertiliser companies in the UAE, Jordan, Saudi Arabia, Iran, Oman and Egypt are also going in for expanded production capacity, but there are fears the global fertiliser industry may witness an over supply.

A spokesman for Kisan International Trading FZE-Dubai (KIT FZE-Dubai), a wholly-owned subsidiary of Indian Farmers Fertiliser Co-operative Limited (Iffco), India, a world leader in the production and trading of fertilisers, said: "Fertiliser demand in India depends on the government's subsidy policy, which is not clear now. There has been a delay in the release of the subsidy. Commodity price movements have affected fertiliser companies. The price of DAP has come down from $1200 (Dh4,407) to $600. Fertiliser demand may also be affected by the low agricultural commodity prices.

"Fertiliser is a capital-intensive industry that needs a 10-year period for implementation. We currently have contracts with many fertiliser producers and traders in the Gulf."

The fluctuations in the fertiliser prices have forced some manufacturers to close shop. Dubai-based Dubai Fertiliser Factory shut down operations due to bad market conditions.

However, other major fertiliser producers such as the Ruwais Fertiliser Industries Ltd (Fertil) are expanding production capacity. Established in 1980 as a joint venture between Adnoc and Total, the company has a urea debottlenecking plant under development. Fertil has a project to expand its urea plant capacity by 50 per cent. There are plans to convert 90,000 metric tonnes of ammonia per year into urea to supply feedstock urea to a new melamine plant.

The company's expansion plans will increase daily urea production to 2700MT per day, out of which 800MT per day will be sent to the Melamine plant and 1900 MT per day will be granulated and marketed.

In 2007, the company sold eight per cent of its production in the UAE, eight per cent in Sri Lanka, and seven per cent in Iran and other small markets such as Ethiopia, Kenya, Tanzania, Mozambique, Bangladesh and Oman. The bulk of its production – 54 per cent – was sold in India.

High fertiliser prices in the past helped major manufacturers such as Fertil, Saudi Basic Industries Company (Sabic), and others to earn record profits. The Saudi Arabian Fertilisers Co (Safco), the first petrochemical company in Saudi Arabia, reported net profits of SAR1.914bn during the first six months of 2008, compared to SAR850.1m in the same period in 2007 – an increase of 125 per cent. The record profits for two consecutive years was mainly due to increased sales and high prices of fertilisers in the international market. Over the years, the company has expanded its production capacity to 5.3m tonnes by setting up seven new factories in Jubail Industrial City, Saudi Arabia.

According to the Arab Fertiliser Association, a 115-member body, which represents fertiliser producers in the Middle East, the region saw an increase in production of phosphates, nitrogenous fertilisers and potash.

Massive raw material reserves in different Arab countries helped rapid expansion and growth of the fertiliser industry. Countries that were exporting raw materials for fertilisers for many years decided to utilise this strength to set up a strong domestic fertiliser industry.

According to a demand forecast by the International Fertiliser Association (IFA), after several years of extraordinary growth the world economy has entered a depressed phase and commodity prices, including oil, have come down substantially.

"The current fast-changing prices of agricultural commodities and fertilisers make it difficult for farmers to invest in fertilisers. They tend to wait for the improvement of the cost benefit ratio and an improvement in prices. It also depends on the US exchange rate movement."

IFA said in its demand forecast for 2009 that in many fertiliser-using countries, it has been difficult to get credit for buying agricultural inputs, including fertilisers, which will result in import difficulties and decline in sales. Where there are sufficient phosphorous and potassium reserves in the soil, farmers will temporarily rely on reserves and buy fewer amounts of these two fertilisers. Nitrogen demand will not be greatly impacted, but if yields are impacted by less intensive agricultural practices, grain prices will rebound in 2009.

Fertiliser consumption rose sharply in 2007-08, boosted by strong agricultural commodity prices during the first quarter of 2008 and strong policy support in many Asian countries. It is estimated world fertiliser demand will fall by 2.2 per cent in 2009 to 165m metric tonnes.

Fertiliser demand in 2009 and 2010 would depend on how the global financial and economic scenario evolves, but the main markets will be South Asia and East Asia.
Follow Emirates 24|7 on Google News.