Shuaa net loss drops to Dh529.8m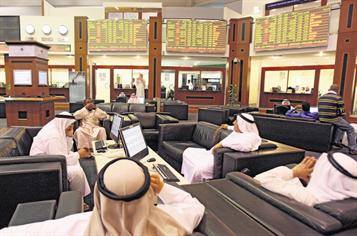 Dubai-based investment bank Shuaa Capital's net loss shrank to Dh529.8 million in 2009 from Dh889.6m for a year earlier period, while the fourth-quarter loss fell to Dh154.3m from Dh577.4m for the same period last year. The fourth-quarter operating income was negative Dh13.1m, compared to a negative operating income of Dh474.8m for the same period last year. The Q4 results reflect Dh53.2m of impairment charges and prudent provisioning of Dh89.8m as the firm reduces downside risks, emanating from volatile markets.

Majid Saif Al Ghurair, Chairman of Shuaa Capital, said: "Global markets went through unprecedented and profound change during 2009. Although there are visible signs of improvement in our industry, the market recovery is still fragile in certain areas of our business. Our brokerage, asset management, finance and private equity business produced positive contributions to the bottom line but write-downs and provisions offset these profits during 2009."

Sameer Al Ansari, Chief Executive Officer of Shuaa Capital, said: "We have increased our cash position by Dh153m during the year and reduced our short-term liabilities by Dh892.7m. Finally we took necessary steps to adjust the firm's cost base to streamline operations and generated savings of Dh150m compared to last year."

The company said cash flow increased Dh30m in Q4 to Dh914m in 2009. Cash generated from operations has been used largely to repay bank borrowings of Dh892.7m, further deleveraging its balance sheet, and adding Dh153m to cash on hand. Cash on hand equals Dh543m as at the end of the fourth quarter.

Its total assets were Dh2.850 billion against Dh3.303bn in September 2009 and Dh4.377bn in December 2008.

Liquidation of investments of Dh338m, reduced lending activities of Dh143m, impairment charges of Dh53m and additions to cash of Dh78m were the primary drivers of change quarter to quarter.

Total liabilities were Dh1.152bn against Dh2.10bn as of December 31, 2008. Due to banks and medium term debt reduced further in Q4 by Dh90m, reflecting the continuation of this positive trend reported over the past five quarters. Contractual settlement of financial liabilities of Dh211m was another significant item this quarter.

Shuaa's brokerage unit profit dropped to Dh13.3m from Dh58.5m in 2008. The division recorded a profit of D4.9m in Q4 2009.

While the DFM General Index recorded a rise of 10 per cent for the year, Shuaa share price increased by 49 per cent from Dh1 to Dh1.49. Its market capitalisation almost tripled to Dh1.586bn as of December 31, 2009, against Dh550m as of December 31, 2008, after it issued 515 million shares to Dubai Banking Group.

Markets in the UAE were particularly challenging in 2009, especially towards the end of the year.

During the fourth quarter the overall traded value in the UAE was Dh243bn as compared to Dh537bn in the same period in 2008.

Despite difficult markets, the brokerage business continues to demonstrate market leadership and gained market share.

Shuaa consolidated its market position as the second largest brokerage in the UAE during 2009 with an overall UAE market share of 5.27 per cent as compared to 4.41 per cent in 2008.

Shuaa Partners, its private equity unit, recorded a profit of Dh14.9m in 2009 as compared to Dh35.3m in 2008. The division posted Dh3m Q4 profit.

Its Gulf Finance subsidiary saw a profit of Dh24.6m in 2009 as compared to a profit of Dh41.2m in 2008.

Its asset management division profit fell to Dh6.7m in 2009 from D100.1m in 2008. In Q4, the division recorded a loss of Dh0.3m.

Total assets under management also fell to Dh889m from Dh1.74bn in the previous year.

The corporate division recorded a loss of Dh577.5m in 2009 as compared to Dh1,150m in 2008.
Keep up with the latest business news from the region with the Emirates Business 24|7 daily newsletter. To subscribe to the newsletter, please click here.
Follow Emirates 24|7 on Google News.