Trendless markets to rule trading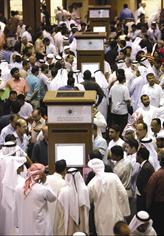 The lack of any strong news and impetus will have its expected impact on trading activities in the markets, fuelling sideways movements. Selling pressures are expected to minimise and to be limited for profit-taking movements, said Hosam Al Husseini, head of brokerage at Emaar Financial Services.
"This situation is expected to increase speculative movements on minor stocks, especially in the ADX. Both markets are well above critical support levels, while volatility is higher in DFM.
"We noticed strong profit-taking movements in DFM last week, especially on leading stocks. Also, the turnover fell by the end of the week when prices went down, giving positive indicators that selling pressures are retreating sharply during the down trend," he said. However, Al Husseini said there was a change in the role of institutional investors in the markets. "They are making speculative movements rather than long-term investments. This will lead to more fluctuations in the indexes. They are focusing at the current stage on leading stocks in the ADX. Institutions will enter the markets strongly after any decline in the indexes to buy at low levels and then sell immediately when prices appreciate."
He also predicted that speculation would focus on penny stocks in both markets during the next few sessions.
Mohamad Al Beheiri, trading manager at Amanah Financial services, agreed that a trendless market would dominate trading in DFM this week. "The index tested its resistance level at 1770 points several times last week but failed to close well over this level. We expect DFM will continue trying to go through this level during the next few sessions. It may just close over the resistance level."
Foreign investors net sellers


Foreign investors were net sellers on the Dubai Financial Market for the week ended January 4. They bought shares worth Dh778.1 million and sold Dh784m worth of shares. The value of shares bought by institutional investors reached Dh357.2m during the week, and value of shares sold reached Dh343.5m.
Follow Emirates 24|7 on Google News.
Trendless markets and sideway movements are expected to dominate trading in the Dubai Financial Market and Abu Dhabi Securities Exchange this week.