UAE markets show early signs of stabilisation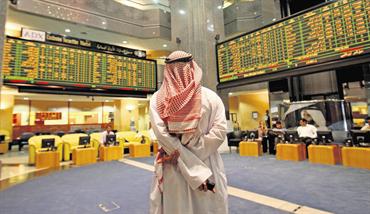 The earnings season has turned out to be a new lifeline for UAE bourses, which were otherwise listless for want of clear direction. The UAE bourses – Dubai Financial Market (DFM) and Abu Dhabi Securities Exchange (ADX) – have been showing signs of recovery since January 26 following the announcement of yearly results.

DFM and ADX were trading 16 per cent and seven per cent lower, respectively, when results started hitting the market. From January 26, when both bourses reached the year's low, DFM and ADX recovered by 6.64 per cent and 5.58 per cent respectively until February 11. During this period, DFM and ADX indices added 103.47 points and 145.22 points to close the week at 1659.55 points and 2744 points on February 11. Both indices closed flat yesterday.

Abu Dhabi Commercial Bank (ADCB) reported a drop of 138 per cent in net profit, CBI recorded 59 per cent fall in net profit, Finance House, a 55 per cent fall, UNB, a 20 per cent drop in profit and Emirates NBD, a nine per cent drop in net profit for 2009 full year.

Despite the drop in profit, ADCB shares rose 38.69 per cent as investors reacted positively pushing the share price to Dh1.90 on February 11 and Dh1.86 on February 18, rising 32.85 per cent from the low of Dh1.37 on January 27. However, the future direction still looks unpredictable once the results season is priced in. Market players hold a mixed outlook as the market is expected to move in sideways.

Realty and banking stocks hold the key to sustainability of present momentum on the bourses. Arabtec stock fell more than 20 per cent after news in early January hit the market about its selling 70 per cent stake to Aabar Investments. Aabar shares added 11.01 per cent and closed at Dh2.32. Property stocks, Sorouh and RAK Properties on ADX, moved upwards in the range of 0.25 per cent to six per cent, while Aldar stock slipped into the red as shares fell 5.50 per cent during the previous week over the price of Dh4 on January 26.

Khalid Al Masri, Rasmala, told Emirates Business: "We prefer the telecom sector as it's not exposed to problems and pays good dividends. We are selective on the real estate sector though a couple of them are available at attractive prices. And we put a question mark over the banking sector as its situation is not clear on many fronts. We don't think of a downtrend, but do not expect upward movement either in the first half. We expect the second half will be encouraging."

Ahmed Badr, Research Analyst at Credit Suisse, said: "The Abu Dhabi market is showing positive signs. The Abu Dhabi real estate market started to show early signs of stabilisation on the back of an improved financing environment and, as a result of the limited size of the secondary market in Abu Dhabi, primary market transactions have resumed, offering better visibility to developers for property sales transactions."

During the previous week, the DFM general index rose in three sessions and fell in two sessions as it recorded a net gain of 2.99 per cent or 50.21 points to close the week at 1625.99 points. However, despite its rise in three sessions out of five, the ADX General Index retreated as it lost 22.63 points or 0.82 per cent and closed at 2766.63 points.

The Dubai Government's announcement on Monday that it did not make any offer to Dubai World creditors and that no offer would come before March or April, had arrested the market fall. Since then, the market has been moving in a narrow range.

"Our top picks for 2010 include sectors such as banks, telecoms, consumer, real estate, construction and investment holdings. While we believe there will be mild economic growth in regional economies in 2010, the companies we highlight should benefit from their positioning going into this year. Our top regional picks are Aabar, Agthia, Aldar, DSI, etisalat and NBAD," said Al Mal Capital Research in its focus list.

Though not a significant improvement on net profits, earnings for the fourth quarter of 2009 were flat to negative side but without any shocking news for investors. Market players are heaving a sigh of relief as this absence of any major setback factor has literally cheered them.

"More recently, evidence suggests that prices and turnover have begun to stabilise as sale prices reach a market clearing rate. According to Colliers International, Dubai villa sale prices rose by seven per cent during Q4 of 2009. This supports evidence that Dubai land sales have begun to bottom out. Migration of commuter workers from Abu Dhabi to Dubai should help lift prices in the Marina/Greens and Ibn Battuta areas," said MAC Capital's report.

However, the oncoming supply of some 27,000 new apartments in Dubai during FY-10 is likely to put further downward pressure on sale prices and rental yields to the tune of 10 per cent during the first half of 2010.

"We see in the second half of 2010, support for local valuations, based on discounted P/E and P/Book ratios, forecast stabilisation in net profits and generally a more positive macro-economic backdrop during 2010. Issues relating to forced disclosures, Dubai World re-structuring etc, are likely to have come to a head during the next six months, giving the investor community a more clear focus of investment risks associated with local markets, combined with a likely move towards a more positive phase in the local earnings cycle," said the MAC Capital report.

"Average residential real estate prices in Abu Dhabi have to date corrected by about 30 per cent from the peak in September 2008, on our numbers. However, due to its solid long-term fundamentals and the current supply shortage, we are expecting a shortage of about 31,500 units by 2011E, given the upcoming supply of about 14,850 units between 2009-2011E, according to Colliers International. We think the market has started to show early signs of stabilisation," said Badr.

Given the improving financing environment with Abu Dhabi banks and finance companies offering loan-to-value ratios of up to 80 per cent for Aldar and Sorouh projects at more attractive rates, average mortage rates are currently available at 7.5 per cent versus 8.5 per cent to nine per cent in January 2009.

"Unlike Dubai, where the secondary market has been very active in the past three months, secondary market transactions in Abu Dhabi have been limited due to current supply shortages. Primary market transactions are picking up giving developers better visibility for property sales transactions going forward. In our view, primary market transactions are a key indicator of recovery and a pick-up in volumes should be a positive catalyst for the Abu Dhabi real estate market in general," said Badr.

Earnings of most of the largest UAE banks have outperformed property and industrial company earnings declared so far.

"Banking earnings are likely to remain flat on average during the first half of FY-10, as provisioning catches up with the deterioration of loan books during 2009. In their favour, UAE banks remain well capitalised, with average capital adequacy ratios of above 16 per cent and some as high as 22 per cent. Further, the Central Bank has agreed to provide short-term funding facilities at 50 bps above Eibor, in addition to direct liquidity injections (converted to tier-2 capital) and the ongoing Dh for USD swap facilities. Overall, we expect the UAE bank lending growth to gradually rise to five per cent to six per cent during 2010 from the one per cent to two per cent growth of 2009," said the report.
Keep up with the latest business news from the region with the Emirates Business 24|7 daily newsletter. To subscribe to the newsletter, please click here.
Follow Emirates 24|7 on Google News.