US bank rescue details key to stave off bears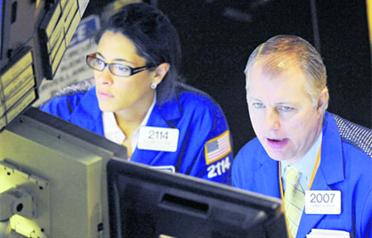 The Dow breached a six-year low in the holiday-shortened week amid mounting fears that the White House would nationalise banks, thus wiping out shareholders.
Stocks pared losses in the final hours of trading on Friday after the White House said it strongly believed in a privately held bank system.
"We don't care about anything but bank details at this point," said Robert Francello, head of equity trading for Apex Capital hedge fund in San Francisco. "It's all about bank details and a bank rescue."
With indexes at multi-year lows, the focus will be on battered banks Citigroup and Bank of America, two of the cheapest stocks on the Dow, after a top US senator on Friday said short-term nationalisation for some banks was possible.
The fate of both companies will have important consequences for the sector and the broad US economy that is in the throes of an ever-deepening recession, analysts said.
"We're dependent on seeing some stability in the financial sector," said Steve Goldman, Market Strategist for Weeden Co in Greenwich, Connecticut.
"Each day we walk into the market and we see them down five to eight per cent. It makes it difficult for stocks to advance."
For the week, the Dow fell 6.2 per cent and the S&P dropped 6.9 per cent, while the Nasdaq stumbled 6.1 per cent. It was the Dow's lowest close since October 2002.
The economy's troubles are likely to be confirmed by corporate results to be released next week by bellwethers Home Depot, Target Corp and Dell.
Investors will also parse through reams of data next week, including the Case-Schiller index of home prices, sales of both existing and new homes, and Friday's preliminary report on US gross domestic product for the fourth quarter. The Commerce Department issued an advance report on fourth-quarter GDP last month that showed the economy had contracted by a 3.8 per cent annual rate.
The data will provide some clues as to the state of the fragile US housing market, the eye of the economic storm that triggered the credit crunch.
"It will be important to watch the home sales data," said Alan Gayle, Senior Investment Strategist of RidgeWorth Investments. "If home sales are steady or they tick up ever so slightly that will be an encouraging sign." Gayle added that investors should watch what is happening with the "inventory overhang" of unsold homes.
But in coming days, the focus will remain squarely on Washington as Wall Street hope for details on a plan to bolster the financial sector, which suffered steep losses this week.
Citing unnamed US Treasury sources, CNBC said the administration will release some details next week on its bank rescue plan. A Treasury spokesman told Reuters he could not immediately comment on the report.
Federal Reserve Chairman Ben Bernanke is set to testify on monetary policy before the Senate Banking Committee on Tuesday and Paul Volcker, a top economic adviser to President Barack Obama, testifies before a Joint Economic Committee hearing on Thursday.
Investors will be watching both officials for any hints about how the government will bolster banks.
Details will be key, especially after Christopher Dodd, Chairman of the Senate Banking Committee, told Bloomberg on Friday that the option to nationalise banks, although undesirable, was on the table.
Wall Street is still reeling from Treasury Secretary Timothy Geithner's failure to provide any details when he announced a bank plan.
"People are obviously very anxious to know what's going to be done and trillions of dollars are at stake," said Marc Groz, Chief Investment Officer for Topos, an asset management and risk advisory firm. "It's a battle about who's going to pick up the tab." 
Follow Emirates 24|7 on Google News.
Bears could have the upper hand again next week if Wall Street fails to get assurance that major banks can be rescued without being seized by the US Government.