US stock markets in for a volatile trading period next week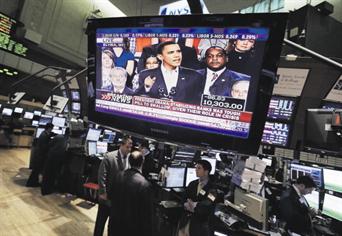 US stocks could see choppy trading next week with the latest batch of earnings and uncertainty over Ben Bernanke's Senate confirmation for another term as Federal Reserve chairman.

While the White House was confident the Democratic-controlled Senate would confirm Bernanke for a second term to lead the US central bank, he faces opposition from both Democrats and Republicans critical of the Fed's handling of the financial crisis.

Apple Inc, Microsoft and Procter and Gamble Co are among dozens of companies due to post quarterly results next week. But investors head into the week after seeing stocks fall for three straight days, the worst losses in 10 months.

US President Barack Obama's plan for tougher restrictions on banks on Thursday was among factors rattling investors. The losses put the three major indexes into negative territory for the year.

The Obama news "sent a shiver of uncertainty about the entire landscape across Wall Street. And uncertainty breeds selling", said Michael James, senior trader at regional investment bank Wedbush Morgan in Los Angeles.

That means "a lot of volatility" for next week, he said. The CBOE Volatility Index, a barometer of anxiety on Wall Street, posted its biggest three-day percentage gain in almost three years, rising more than 20 per cent on Friday alone.

"We'll continue to see the struggle between earnings news and political noise," said John Praveen, Chief Investment Strategist at Prudential International Investments Advisers in Newark, New Jersey.

Investors will focus on the Fed's statement on the economy and interest-rate policy expected on Wednesday as well as react to data on existing home sales and the government's first reading of US gross domestic product for the fourth quarter. Also on the agenda is Obama's State of the Union speech to Congress on Wednesday night.

For the week, the Dow Jones industrial average fell 4.1 per cent, the Standard and Poor's 500 index declined 3.9 per cent and the Nasdaq dropped 3.6 per cent. The indexes ended lower in the previous week as well.

However, the S&P 500 is still up 61 per cent since its early March lows, driven in large part by stronger-than-expected earnings and economic news, and some analysts see the bull trend continuing despite recent losses. "[In] the bigger picture, I don't see any evidence to suggest the bull market from March 2009 has ended. I think the current weakness could present a buying opportunity," said Chris Burba, short-term market technician at Standard and Poor's.

Fourth-quarter company results are expected to show a sharp improvement compared with 2008's last quarter when the economic downturn hit profits hard.

S&P 500 earnings for the quarter are forecast up 193 per cent versus a year ago, according to Thomson Reuters estimates. It would be the first quarter that the S&P 500 company earnings grew year over year since the second quarter of 2007.

So far this reporting period, earnings have not provided the same support to stocks as they have in recent quarters.

On Thursday, when Obama's banking proposal was announced, shares of Goldman Sachs slid even though the company posted stronger-than-expected fourth-quarter results.

Investors have proved to be more eager to sell when companies' earnings or outlooks failed to meet their high expectations. One example was the drop in IBM's shares even after the tech company reported stronger-than-expected profit.

Investors next week are likely to focus again on news from Washington, with the Senate's vote on Bernanke expected next week.

"While the belief is out there he will continue to sit where he is currently, it adds another level of fear which is not good for a market where a lot of people are questioning the rally anyway," said Dan Cook, senior market analyst at IG Markets in Chicago.

Also, on Wednesday, the Fed's policy-setting panel concludes its two-day meeting, with rates widely expected to be left at near zero. Investors instead are likely to focus on what the Fed says about when it might resume raising rates.
Keep up with the latest business news from the region with the Emirates Business 24|7 daily newsletter. To subscribe to the newsletter, please click here.
Follow Emirates 24|7 on Google News.