Wall Street awaits Obama stimulus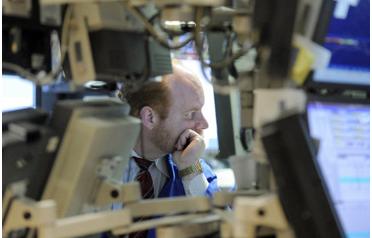 The stock market ended January on a sour note, losing ground for the week and showing a hefty decline for the first month of 2009.
The Dow Jones Industrial Average of 30 blue chips lost 0.95 per cent in the week to Friday to end at 8,000.86.
The technology-heavy Nasdaq was essentially flat for the week, losing a fraction of a point to 1,476.42 while the broad-market Standard & Poor's 500 shed 0.73 per cent to 825.88.
So far the market has gotten off to a troublesome start to 2009, with the Dow off 8.8 per cent and the S&P down 8.6 per cent for January.
Market sentiment remains wobbly amid signs that the worst recession of the post-World War II era may be deepening.
The latest snapshot of the US economy showed a 3.8 per cent drop in activity in the fourth quarter, although analysts say the figure might have been skewed by inventory building, meaning the downturn could be worse in the current quarter.
Other data showed rising jobless claims, weaker output and a weak housing market, where the crisis began.
"The economy is in critical condition as the negative feedback loop of rising unemployment, restrictive financial conditions and falling output intensifies, and timely, sizeable fiscal and monetary stimulus is needed to break the cycle," said Joseph LaVorgna, US economist at Deutsche Bank.
Wall Street is closely watching progress on President Barack Obama's stimulus program after an $819-billion (Dh3 trillion) measure passed the House of Representatives and moved to the Senate, where Republican opposition remains strong.
"The keys to a sustainable US economic recovery right now lay in the hands of the policymakers in Washington, and not in much else," said Meny Grauman, economist at CIBC World Markets.
But Grauman said some remained skeptical about the ability of any government program to jolt the economy out of recession.
"For all the economic star-power behind President Obama's $800 billion-plus economic stimulus plan, the economic profession's dirty little secret is that we simply don't know if this plan will work," Grauman added.
"The inner-Keynesian in all of us say yes, but some of the research on the subject says no ... In our view, unprecedented fiscal spending along with a record-low fed funds rate should sow the seeds of a modest economic recovery by the end of 2009, but there are just too many unknowns to make this a sure bet."
Wall Street has been highly volatile since Obama took office on January 20, staging some sharp rallies interspersed with steep declines, with markets reacting to grim economic data and corporate results.
Gregory Drahuschak, analyst at Janney Montgomery Scott, said the market will be keenly watching upcoming data but that "economic reports take on a different context than they have for a long time."
"The general view now is that they will be watched to see how bad they are rather than whether there is an upturn in any of the data," he said.
"The increasingly negative sentiment at some point will face a surprise when the data finally do turn more positive, but no one seems to anticipate that this will happen quickly."
In the coming week, the market will face a test with sales data from the slumping auto sector, and a number of indicators including the monthly employment report for January, seen as perhaps the best indicator of economic momentum.
Gina Martin at Wachovia Securities said the focus would be more on actions in Washington than on the data.
"At this point we know the economic situation is dour, and we're just waiting for news from Washington that indicates a better degree of optimism," she said.
CIBC's Grauman agreed, saying, "January's payroll numbers will be bad, but it is news out of Washington that will have the power to move markets."
Bonds were pressured by worries about a vast expansion of US government debt. The yield on the 10-year Treasury bond jumped to 2.844 per cent from 2.622 per cent a week earlier, and that on the 30-year Treasury climbed to 3.603 per cent from 3.332 per cent. Bond yields and prices move in opposite directions.
Follow Emirates 24|7 on Google News.
Wall Street kicks off the month of February with confidence still shaky and investors hoping for a quick government stimulus to counter the worst recession in decades.