Zinc, lead, copper suffer most in base metals downslide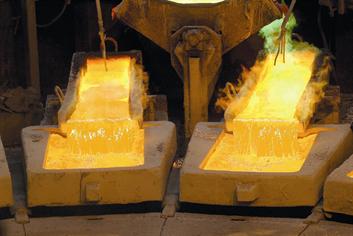 Commodities, the 'hot investment' for 2009, have suffered deeply in the first month of 2010 with copper – a 'promising commodity' just a few months ago – almost witnessing a bloodbath.

Analysts point out that a tighter monetary policy in China is the prime reason that has triggered an all-round decline. Inefficient allocation of funds by managers has also brought suffering to investors, analysts said.

Standard & Poor's, the world's leading index provider, announced yesterday that the S&P GSCI declined 7.89 per cent in January as each of its constituents relegated to the negative territory during the month.

Terming the commodities asset management industry as diverse, Francisco Blanch of Merrill Lynch said even superior asset management skills of some managers produced inferior results because of an association with inefficient benchmarks.

"Almost all commodity markets experienced falling prices during January – the MLCX TR index returned minus 7.85 per cent, the S&P GSCI TR index posted minus 7.89 per cent and the DJ-UBS TR index yielded minus 7.28 per cent," he said.

Though it is gold and oil whose drop has caught the market's light, the price of all base metals has suffered in January, market reports point out. In the last week of January, copper dropped 8.7 per cent to $6,750 (Dh24,792) a tonne. In the same week of January, aluminium dropped 7.1 per cent, zinc depreciated by 10.4 per cent and lead dropped 9.5 per cent and tin sank 4.9 per cent to $16,900 a tonne.

The S&P GSCI Industrial Metals Index suffered bitterly in January, falling 8.92 per cent after rising 82.42 per cent in 2009.

"Fears of potential economic weakness, as well as some reversion of the substantial asset rallies seen in 2009, were certainly at play in January," says Michael McGlone, Director of Commodity Indexing at S&P Indices, in a release issued yesterday.

In what is rarely seen, hydrocarbons and agricultural commodities suffered together with base metals and precious metals in January. Corresponding to oil prices that ranged around $75 a barrel (bbl) – a drop from above the $80-a-barrel levels in December – for most of January, all energy indices fared lower.

"Key energy benchmarks declined in January, with WTI crude oil, heating oil, gasoline and US natural gas prices all down. The MLCX Energy TR index returned minus 8.25 per cent for January. In particular, WTI and Brent crude oil retracted from levels over $80/bbl early in the month and are now trading in the low $70s/bbl range," Blanch said. Similarly, the S&P GSCI Energy Index fell 8.63 per cent in January after rising 11.22 per cent in 2009, a release stated.

Among agricultural commodities, grains fell sharply, Blanch said. "The MLCX Grains TR index posted minus 12.39 per cent for the month. Livestock was less affected, with the MLCX Livestock TR index at minus 0.93 per cent. Sugar was the best performing commodity in the month and helped the MLCX Softs TR index gain 3.78 per cent in the period."

Industrial as well as precious metals fell in the month, with zinc being the worst performer, he added. "The MLCX Precious Metals TR index yielded minus 1.36 per cent for January and the MLCX Ind Metals TR index returned minus 8.30 per cent in the same period."
Keep up with the latest business news from the region with the Emirates Business 24|7 daily newsletter. To subscribe to the newsletter, please click here.
Follow Emirates 24|7 on Google News.