Affinity marketing to help top brands expand their reach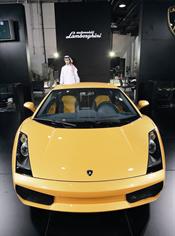 Communicators are taking advantage of the challenging environment for luxury brands to offer solutions that could produce mutual benefits in big figures.

The UAE will see a new concept, the Luxury Network, introduced in the local market to help high-end luxury brands stretch their outreach to high net worth consumers and share resources, through affinity marketing.

The Luxury Network, a firm established in 2007 in the UK, has decided to launch an office in the UAE, with nine members already on board and 10 others negotiating to join. The crisis has helped it grow threefold in the past 12 months.

According to Kevin Rose, Founding Partner, who met Emirates Business on a yacht, the concept promotes affinity marketing as a means to link top high-end brands and communicate with each other's consumers.

The fees to enter this club are about Dh250,000 a year, but Rose said it was to ensure that only top brands with good capabilities could join, and that would only be through their head offices in each region, rather than the distributors.

What does a high-fee network offer its high-end brand members? According to the Luxury Network, affinity marketing allows brands to partner with each other to run mutually beneficial joint marketing and business development activities.

These include strategic brand alignment, joint collaborations, media share, joint events, B2B networking events and B2C promotional events, privilege and rewards programmes, white labelling, product placement and occasionally under controlled conditions data share.

"That said, affinity marketing can constitute 50 per cent of the time spent by each of those brands if they use all of those tools," said Rose. "We organise events and facilitate every aspect of the partnership among these brand, by bringing them together, discussing events, launches and other activities and we later follow up with them and track the progress of their projects," he said.

"It is a hand-holding exercise. The good thing is they can work only with brands they want to work with."

The most successful ideas are joint events, such as luxury previews and limited editions products, said Rose, based on his previous experience with the network's 130 clients worldwide across eight markets, including London, Beverly Hills, Moscow, Milan and Hong Kong.

Changing trends

Luxury brands have seen changing trends following the crisis, which include, according to Bain and Company's report issued at the end of 2009, growth in China, South Asia and Central Asia in addition to the Middle East.

According to the report, luxury sales in mature markets were predicted to have had a 16 per cent decrease in America, 10 per cent in Japan and eight per cent in Europe versus 2008 levels. But the 10 per cent projected sales growth for luxury goods in Asia will partially offset the impact of those declines.

In 2009, luxury goods companies and fashion department stores have had their sales shift focus from the West to the Eastern countries. They are opening new stores in these places, organising activities of all kinds and this trend is set to continue to extend in 2010. The Middle East saw the biggest share of directly-opened stores, 30 per cent of the 300 store openings globally.

"Our vision is the network should go where the luxury is, that is into the emerging luxury markets such as India, China and the Middle East," said Rose.

The official launch of the network will take place once the 15 confirmed members in the region join. "With nine already joining as founding members and applying to become members, we will get there soon," said Rose.

They include Lamborghini, Royal Jet, Gulfcraft, Saksfifth Avenue among others.

He said: "It is nice to be here in a market where there is nothing structured yet in the business community… a lot of brands would love to work with other companies to facilitate their business."

"Once the UAE market is established we plan to have satellite offices in the Middle East such as Bahrain and maybe Saudi Arabia," said Rose. "Of course Saudi Arabia is a big market, but we haven't found good people yet," said Rose, explaining the hesitation to get in to the Saudi market. "We believe that Bahrain is a promising luxury market and a good place to do business," he said.

The Luxury Network is expecting to launch an office in South Africa in the next three months as well.

Good alternative

Meanwhile, Rose said the decline that was experienced in established luxury markets and losses resulting from the crisis have made affinity marketing a more sought after alternative.

"In the past 12 months we have had more brands joining. It is not a very nice thing to say, but the credit crunch has been very good for the Luxury Network. We have gained in the recession three times as many members. We haven't lost too many and we have had 90 per cent of our members rejoin between year one and year four, that is since 2007," said Rose.

"A lot more have joined than those who left because our model is the simplest on the planet and sometimes the simple ones are the ones that work," he said.

Structure

The Luxury Network attracts top international brands worldwide with enough funding capabilities to be able to go into partnerships with other members.

The members benefit from the media share service where they can place ads and advertorials on their brands in their partners' newsletters and magazines for free.

They are provided with a strictly business-to-business social network where they could discuss possible projects, that are later monitored through a special software designed for the Luxury Network to follow up on the progress of those projects.

Rose said his firm only approached brands' regional head offices because they are the ones authorised to make quick decisions. Local distributors, on the other hand, are not approached to avoid clash in interests.

He said the members were non-competitive. That meant the network included one brand of each category, "thus it would be important for members to get in early. They are also allowed to rule out companies that they don't wish to have with them in the network".

That said, automotive, for example, still included separate categories, which implied that the network would be able to have one brand from a sports cars category, another from luxury cars, and another from the 4x4 category. "That is because each of them would want to tie up with the rest to get their mutual customers. Knowing that the customer base for each type of car is different, or can possible be seeking to have all three types," said Rose.

Current membership portfolio includes exclusive luxury brands, such as Bentley, Aston Martin, Selfridges, Holland & Holland, Koenigsegg, Tatler, Barclays Wealth, Smythsons, Sunseeker Yachts and Royal Ascot.

Measuring ROI

The success of the projects is not merely measured by the volume of sales. Rose said: "We don't do the measurements based on the numbers of products sold but on the partnership activities that the members have done with their fellow members." The company looks at the partnerships the members have formed, the products they say they sold and the exposure they had in the luxury market by being in each other's magazines and newsletters.
Keep up with the latest business news from the region with the Emirates Business 24|7 daily newsletter. To subscribe to the newsletter, please click here.
Follow Emirates 24|7 on Google News.