Art sponsorship makes good business sense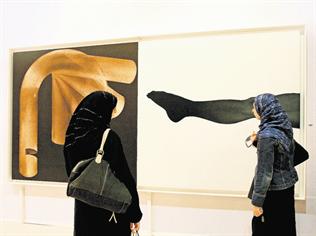 From time immemorial art has been nurtured by patrons. Though the tradition continues to this day, the profile of the patrons has changed. While earlier art was supported by royalty, today it is mostly patronised by those who have created masterpieces in their own right for royalty over the ages: namely high-end jewellery and watch makers such as Cartier, Van Cleef & Arpels and Vacheron Constantin, to name a few.

Emirates Business spoke to some of the companies that sponsor art events on a regular basis and to art fair organisers to find out why the high-end companies patronise art and what they do to support it.

John Martin, Director and co-founder of Art Dubai, a fair that will showcase artworks and bring a collection of masterpieces to the region in March, said: "The link between art and design is very close and very old. They have a strong affinity to each other due to the tradition of craftsmanship. The high-end watch and jewellery companies need to be right up there with the contemporary art scene as they are also works of art, not something that is mass produced. Good design has many similarities with art because it takes months and months of hard work to produce one watch or piece of exceptional jewellery. In fact, many artists still work with design houses, even though now they are slowly disappearing as a distinction has been created over the years."

Vacheron Constantin Chief Executive Officer Juan Carlos Torres said: "We support culture and art because Vacheron Constantin is a company with a clearly artistic vocation expressed through all its creat-ions. Those acquainted with the history of the brand know how its founders delighted in sharing their culture around the world, while contributing to extending the influence of their watchmaking know-how that is so intimately bound up with the artistic crafts or Métiers d'Art that are still passionately cultivated at Vacheron Constantin.

"Tradition, passion, innovation, openness, sharing know-how and supporting the influence of culture is part of our brand philosophy as at Vacheron Constantin, arts transcends boundaries to become a full-fledged philosophy, a way of living that has been cultivated with genuine fervour and a commitment to artistic diversity, creative identity, and the richness of human endeavour."

Patrick Normand, Managing Director of Cartier Middle East and South Asia said: "Cartier was among the first French companies to take an active stance in favour of contemporary art in France. Cartier has been supporting contemporary art by commissioning works of art, organising exhibitions and developing an important collection that testifies to its commitment."

However, is it just the love of art that makes these companies support art or does it make good business sense to do so?

For example, Van Cleef & Arpels is the official sponsor of Art Dubai, that will be held at the Madinat Jumeirah Convention Centre from March 18 to 21.

Apart from being the sponsor of the fair, Van Cleef & Arpels will also host its own patrimony exhibition titled The Art of Magical Jewels.

Stephane De Palmas, Director, Van Cleef & Arpels, said: "Van Cleef & Arpels is using Art Dubai as a platform to host its own patrimony exhibition titled The Art of Magical Jewels and bring, for the first time in the region, a collection of museum and contemporary masterpieces. The company will take advantage of the wide number of regional and international visitors to lead them on a time-travelling journey of the house's enticing craftsmanship and history.

"Since its founding, in 1906, the creators of Van Cleef & Arpels, Louis and Claude Arpels, have always regarded their craft as a creation of timeless art. This is why every piece has its own story, and this is why together they create a history. Logically, the house has always been involved in art in general but more particularly in dance. In 1940, Van Cleef & Arpels created its first collection of jewellery, composed essentially of brooches, inspired by dance. Pursuing its pas de deux with dance, Van Cleef & Arpels created its high-jewellery collection Ballet Précieux, paying homage to the ballet created in 1967 by George Balanchine, Jewels. Pieces of fine jewellery, inspired by the lightness and grace of ballerinas and the precision that their art requires, were specifically designed around emeralds, rubies and diamonds. This amazing collection will be fully displayed at the patrimony exhibition."

Martin said: "It makes good business sense as people who appreciate and buy contemporary art also like to buy one off watches and pieces of jewellery. It works well both for the artists and the sponsoring companies as in fact, many collectors have come to the art world through their appreciation of good design. When the two combine at events such as Art Dubai it works well for everyone as it brings in a different kind of audience. And while it gives opportunity to art lovers to see great design, it gives jewellery and watch lovers an opportunity to see art."

Normand said: "While Cartier saw arts patronage as a communication tool, and even an undertaking towards the wider community, it nonetheless revived a tradition, inherited from the Renaissance, of the defender of the arts, art of our times, living artists and contemporary creators, so as to learn from them and give to them in return."

The embodiment of this commitment led to the establishment of Fondation Cartier pour l'art contemporain, in 1994 by Alain Dominique Perrin, president of Cartier International at the time, and is aimed at bringing art to the attention of the widest public and to work for the benefit of artists.

Each year, Fondation Cartier organises a programme of exhibitions based on either individual artists or themes, and commissions work from artists. It also organises Nomadic Nights, a rendezvous that focuses on the performing arts, where artists explore links between the visual arts and other forms of contemporary artistic expression. Exhibitions and the collection itself are frequently sent to institutions abroad, enhancing the Fondation Cartier's international profile.

The Fondation has built up and sustained relationships with its artists. For example, it encouraged and accompanied Jean-Michel Otoniel, Pierrick Sorin and Vincent Beaurin from a very early stage. Similarly, young French talent was encouraged in 2005 by the J'en rêve project, where work was commissioned from Camille Henrot, Thomas Lélu and Clémence Périgon. Thanks to travelling exhibitions of the collection abroad, these young artists have acquired fame beyond the French frontiers.

Normand said: "Fondation Cartier embraces all creative fields and genres of contemporary art, ranging from design to photography, from painting to video art and from fashion to performance art. This testifies to the Fondation Cartier's commitment and skill, to its blend of rigor and eclecticism that opens up contemporary art and renders it more accessible."

Fondation Cartier has commissioned individual works or collections of pieces by artists. On the other hand Vacheron Constantin has been patronising music.
Follow Emirates 24|7 on Google News.