Bloomberg to cut 100 US broadcast jobs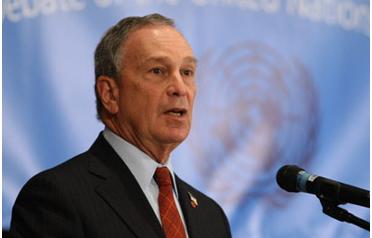 The news and financial data provider will cut the jobs in the United States, 45 of them from its newsroom staff, spokeswoman Judith Czelusniak said, adding Bloomberg might cut other jobs in Britain, Europe and Japan.
"It is a restructuring really needed in order to make programming changes and a network that really leverages our global bureau system and infrastructure," Czelusniak said.
Bloomberg would also shut all non-English language television operations, including those in Japan, Spain and France, two Bloomberg sources with direct knowledge of the situation said.
The cuts would affect about 40 people in Asia Pacific, including 15 in Japan, mostly on the television side.
Another Bloomberg source said the company was hiring at least a dozen people across the greater China region as it shifts its focus to its text and newswire services.
Multimedia operations, which include broadcast, are overseen by former NBC television executive Andrew Lack. Lack took over last year from Matt Winkler, who founded Bloomberg's news operation and still heads the news group.
Lack told employees Bloomberg would integrate its television operations in the Americas, Europe and Asia into a single English-language global network.
"In addition to the benefits of approaching our television news reporting as a single global operation, we will be able to make better use of our resources and eliminate duplicative efforts across the channels," he said.
The Los Angeles Times reported the job cuts on its website on Tuesday evening. They come shortly after the departure of Bloomberg Television Managing Editor John Meehan.
The cuts include cancelling the "Night Talk" TV show with host Mike Schneider.
The New York Post reported on Wednesday that Bloomberg's TV and radio operations both are losing an estimated $20 million (Dh73.6 million) a year. Czelusniak declined to comment on that report.
Czelusniak confirmed that Bloomberg generates about $6 billion in annual revenue, a figure cited by the Los Angeles Times.
The company, which competes with Thomson Reuters Corp, employs about 10,500 people worldwide, with more than 6,500 in the United States.
It employs more than 2,300 news staff, including 1,500 print reporters and about 850 workers in multimedia. It is adding about 70 print news jobs, Czelusniak said.
Bloomberg has avoided cutting jobs, even at times when other media outlets have made cuts.
Like other financial media, Bloomberg is trying to deal with thousands of job cuts at banks and other institutions where it sells its news and data.
Czelusniak said the company plans to hire about 1,000 people this year, but net additions will be lower because of the planned cuts. 
Follow Emirates 24|7 on Google News.
Bloomberg LP will cut 100 television and radio jobs in the first layoffs since it was founded in 1981 by now-New York Mayor Michael Bloomberg.