Channel 4 Radio adds Coast FM to its broadcast network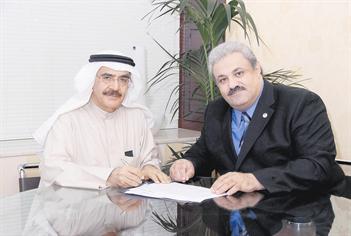 Ajman Independent Studios and Al Fujairah Media signed a joint co-operation agreement to work towards a series of business opportunities. For the first phase of the agreement Ajman Independent Studios' Channel 4 radio network will acquire exclusive sales and marketing rights to Fujairah Media's radio station Coast FM.

"This joint co-operation with Al Fujairah Media marks the beginning of a strong relationship that will continue to grow as time goes by. Both organisations hold valued experience in the UAE and through this agreement we hope to further strengthen the television and radio industry in the country," said Abdulla M Murad, Chairman of Ajman Independent Studios.

"We are proud to add Coast FM as our fourth radio frequency and are confident it will create a greater voice for us to our listeners and also provide more business opportunities. The addition will prove to be an advantage for our advertisers to whom we can offer a better pricing structure through this agreement."

"Our goal has always been to cater and reach out to the diverse population in the UAE and this agreement really compliments that goal. This partnership will play a big role for us as we continue our diversification and expand our business in the radio and TV industry," Murad concluded.

As a part of the agreement, both organisations will also open the doors for each other to utilise their television production and post-production facilities at Creative City Fujairah Media (FZ).

Habib Hammoud, Chairman and CEO of Fujairah Media said: "We are very pleased to start this relationship with Ajman Independent Studios and this agreement just marks the first chapter. We feel that the advertising market today really needs intensive joint efforts to raise revenue and reduce costs and by joining hands with Ajman Independent Studios we allow advertisers to acquire their marketing needs at one stop. This will prove to be more effective as well as convenient for them."

"This is a pilot programme between both organisations and we sincerely hope it will extend to more joint collaborations in the near future. We are confident the joint co-operation will be very beneficial to both companies," Hammoud said.
Follow Emirates 24|7 on Google News.