Cohen in Dubai to scout for locations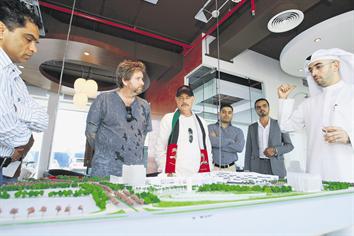 Dubai Studio City, the Middle East's first dedicated film production cluster and a member of Tecom Investments, yesterday announced it hosted acclaimed American film producer, director, and writer Robert Cohen on his first visit to scout locations in Dubai for an upcoming project.

Jamal Al Sharif, Executive Director, Dubai Studio City, welcomed Cohen and briefed him on the philosophy behind creating a world-class technical and community infrastructure that supports the growth of the film production and broadcast industries.

Describing the Dubai phenomenon a "miracle", Cohen said: "I am amazed by what this place has to offer in terms of scenic locales and ethnic diversity. I am definitely coming back to Dubai for my new movie."

Some of Cohen's success as a producer includes The Witches of EastWick, The Serpent and the Rainbow, and The Running Man. As a director, Cohen is mainly known for his hit film The Mummy 4 – Rise of the Aztec and Fast and the Furious.

Spread over an area of 22 million sq ft, Dubai Studio City has 14 fully equipped sound stages, a 3.5 million sq ft back lot for outdoor shooting, commercial offices, pre-built studios, a business centre and post-production studios. The first phase of the development includes three sound stages – one 15,000 sq ft unit and two units of 25,000 sq ft each.

DSC has recently delivered its first phase of offices, the commercial complex, with a 42 per cent occupancy rate, a satisfactory result, according to Al Sharif. The initial occupancy rate expected was almost 37 per cent. Location approval services applications have seen an increase of 6 per cent in January 2009, compared to the same period of 2008.

Currently, UAE-based companies comprise 60 per cent of the industry. Europe, the US and countries such as India, Hong Kong, Singapore and Japan are the most interested in choosing Dubai as a location for their productions.
Follow Emirates 24|7 on Google News.