Cost-conscious advertisers tune in to radio stations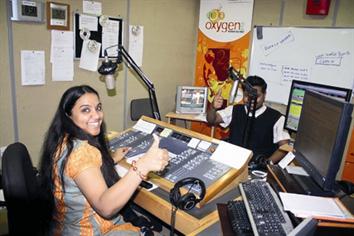 Radio stations catering to South Indian expatriates in the UAE say they are gaining from the economic downturn with cost-conscious advertisers withdrawing from "costly television, print and outdoor media" and re-allocating their budgets to more focused, cost-effective radio advertisements.

And, anticipating more growth in advertising spend focused on this particular radio segment, new stations have been encouraged to emerge on the horizon. Hallo FM, the first Tamil FM channel in the UAE, Radio ME and Spice Radio Malayalam are all undergoing trial runs, even as existing stations try to widen their listenership.

Speaking to Emirates Business, representatives of Asianet Radio, Radio Asia Networks, Hit 96.7 FM and Oxygen FM were all unanimous that the radio sector was benefitting from the re-allocation of advertising budget and the new stations would launch within a few months.

The South Indian languages' radio sector, which started in the UAE even before the Indian language print media, is now moving into interactive programmes. Hit 96.7, the Malayalam FM station from the Arab Media Group's Arabian Radio Network, is luring 100 listeners for a three-day holiday package to Malaysia in a chartered flight for its fifth anniversary bash. Asianet Radio is planning stage shows in the UAE's seven emirates and in Bahrain, Qatar and Oman. Radio Asia RJs can be regularly seen at the Global village, entertaining listeners in live shows and giving out gifts.

Ajith Menon, Programme Director, Hit 96.7, said: "As we celebrate our fifth anniversary, we find we are making an operating profit. We have been growing while advertisement to other media is shrinking because radio is the most cost-effective medium for advertisers now.

"The fact that three to four new radio stations are planning to launch in this market indicates the sector is in robust health."

Menon said the channel enjoys many advantages by being a part of ARN. Through the anniversary bash, an annual cricket match and an annual music award, the Hit 96.7 Radio Jockeys (RJ) are trying to maintain regular interaction with listeners.

He said 100 listeners had been randomly selected through an SMS/phone-in contest and the radio station was bearing all their expenses for a trip to Malaysia, including the visa cost of Dh300, hotel charges and flights, as part of a brand building exercise.

"It has been a recession year, but we have not seen any drop in our revenue. Advertisers have slashed budgets and they are looking for more cost-effective mediums. While print and outdoor media depended on large real estate advertisements, our focus has been on consumer and personnel care products, food and jewellery," Menon said. "Through our programmes and initiatives, we are trying to make our radio station a talking point for our listeners and we are getting good support from sponsors and advertisers."

Another Malayalam channel, Asianet Radio, is celebrating its tenth anniversary with a series of stage shows called Hrudaya Swarangal (Sounds from the Heart) in the seven emirates.

Ramesh Payyannoor, Programme Director, Asianet Radio, said: "We are celebrating our tenth anniversary with 10 stage shows in which radio artists will be performing music, poetry, stand up comedy, mimicry acts and other skits. The first two shows will be staged in Umm Al Quwain and Ras Al Khaimah on February 18 and 19, followed by similar programmes in Al Ain, Abu Dhabi, Oman, Qatar and Bahrain. As an AM radio station, we reach the entire GCC. About 60 per cent of our audience are ordinary middle class people, and through such programmes we are trying to be closer to the listeners."

He said competition is a factor in the radio field, but Asianet has established a niche for itself in the market. The station's RJs are popular and programmes such as Hrudaya Swarangal give them a chance to strengthen their relationship with their listeners.

Payyannoor has himself been an RJ for 14 years, 10 years with Asianet and four years with Umm Al Quwain Radio. "Sixty per cent of our audience comprises committed listeners who react to our intellectually stimulating infotainment programmes. Our reach is throughout the Gulf region," he said.

About 60 per cent of AM radio content is information-based news and current affairs programmes and 40 per cent entertainment, while FM stations are 90 per cent entertainment and 10 per cent news and current affairs.

"Geographically-focused advertisements are coming to radio stations because most listeners own a car and listen to the radio in the morning and evening rush hour. While a quarter page advertisement in an English daily would cost Dh8,000, a 10-day spot in a radio station can cost only Dh3,000. For four insertions of a 30-second radio advertisement, the daily advertisement cost would be only Dh1200," said an Asianet executive.

Brij Bhalla, General Manager, Radio Asia Network, said: "Many companies have slashed advertising budgets, but radio being an effective interactive media, a lot of money is being put into radio advertisements. It has been a continuing trend and the recession has strengthened the flow of advertisement revenue to radio stations."

Bhalla's station, owned by Tutu Bose, an Indian parliamentarian from Calcutta, has no immediate expansion plans.

"Our Tamil programmes on the Radio Asia channel are very popular. The new Tamil FM channel will not affect our existing Tamil channel," he said.

"Healthy competition and more radio stations are always good for market growth,'' said Bhalla.

"The volume of radio advertisement has expanded and we have also gained from the growth. We have both FM and AM radio stations in South Indian languages, mainly Malayalam and Tamil. Our Oxygen FM station came back on air after a six-month gap in September 2009 and is also doing well."
Keep up with the latest business news from the region with the Emirates Business 24|7 daily newsletter. To subscribe to the newsletter, please click here.
Follow Emirates 24|7 on Google News.