Crisis-hit NDTV Arabia likely to switch off in a day or two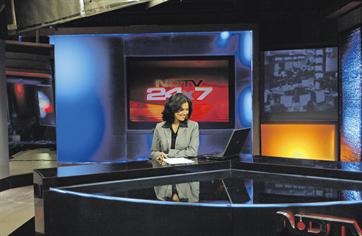 In less than two years of its operations, NDTV Arabia may see the closure, falling prey to the current circumstances, which have led to a sharp drop in media spend.

Officials representing the channel in the Middle East are calling it "a technical glitch," but confirm the fact that "NDTV Arabia will go off air in a day or two and most likely be back only after Ramadan."

However, insiders at NDTV office in New Delhi conveyed that current business environment leaves no room for expansion plans and NDTV Arabia will have to be put on hold until further notice.

New Delhi Television, one of Asia's largest private television producer of news, current affairs, business and entertainment, boasts of a channel bouquet that includes NDTV India, NDTV 24x7, NDTV Profit in India and Astro Awani in Malaysia. NDTV Arabia was launched for the Middle East audience in Dubai in October 2007.

As a matter of fact, the channel has already terminated service of many of its technical and production staff on certain beats that have been axed in the revamped programming.

"Most of the entertainment and socialising programmes have been axed and we are expecting many more people to be laid off," said an executive producer of one of the programmes that covered the social scene in the metro cities of the country.

For the moment, NDTV Arabia is broadcasting programmes uplinked from India and even the production is from their studios in New Delhi.

Early this year, NDTV Arabia was officially launched in the region and the channel revealed their ambitious plans to produce majority of the programming for the region from its studios in the Studio City in Dubai.

The 24-hour free-to-air infotainment-based channel, NDTV Arabia was beamed from NileSat and was estimated to reach between 70 million and 100 million homes in the region.

Commenting on the launch, Prannoy Roy, Chairman, NDTV, had said: "An estimated 31 per cent of the Gulf's total population and 56 per cent of the work force consists of a heterogeneous population of expatriates, predominantly those from the Asian Subcontinent. Further, driven by the unprecedented economic growth and diversification, this expatriate population is rapidly expanding and with it the need for quality localised infotainment."

Since then, it is producing two local programmes called The Big Fish and Walk The Talk. Both are beamed on other channels of NDTV network and their fate is not certain.

"For the moment they are being beamed on NDTV 24x7, but considering the momentary closure of their operations in Dubai, we are not sure if or how long will the channel intend to produce these programmes," said a senior executive from Percept Gulf, the communication company representing NDTV in the region.

According to industry sources, NDTV is also in talks with Reliance Industries for a merger and unconfirmed reports put the proposed stake of Reliance to as high as 70 per cent in NDTV. Insiders believe that reprogramming and restructuring is part of this merger moves that will see Reliance pumping in capital in NDTV.

Reliance initiated their commercial interests with NDTV with a tie up for a business programme on the nuances of share market – Market Mantra. Reliance Money has come forward as official sponsor for the show. The show was re-launched in the Bombay Stock Exchange with great fanfare. Investors and brokers showed their happiness on the re-launch of the show.

In Dubai, NDTV Arabia needs an additional investment of $8-10 million, conveyed one of the executives and "in times like this, it doesn't make business sense to make that investment.

"NDTV at corporate level is in the process of restructuring, as we have been conveyed, and Dubai project is obviously is not the top of their priority," said the NDTV representative in Dubai.

NDTV, a brainchild of chairman Roy, began way back in 1988, when it produced a news and current affairs show The World This Week for the government-owned broadcaster Doordarshan. Filling the scarcity of international exposure, the show proved popular, and NDTV established its image as a private news producer. It moved on to become the sole news content provider and producer for India's first 24-hour English news channel, Star News.

After years of operations at the Star, it launched two 24-hour news channels – NDTV 24x7 in English and NDTV India in Hindi in 2003. This was followed by a 24-hour business news channel NDTV Profit in 2005 which became a leading business news channel in a short period of time.
Keep up with the latest business news from the region with the daily Emirates Business 24|7 newsletter. To subscribe to the newsletter, please click here.
Follow Emirates 24|7 on Google News.